Filip Forsberg is Nashville-bound, could play Monday…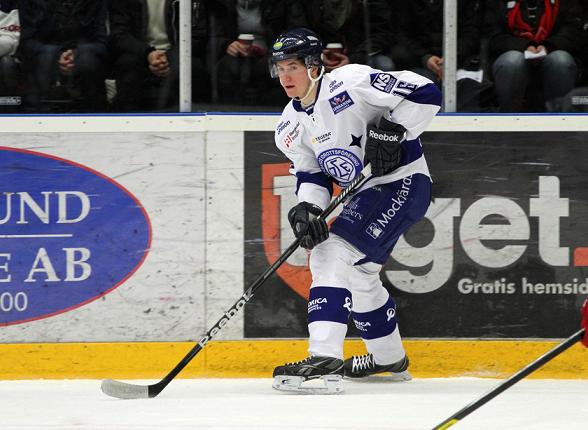 According to the Swedish blog MrMadhawk.se, Nashville Predators prospect Filip Forsberg is headed to Music City.
His Allsvenskan season with Leksands IF ended last week and, after playing two games with the Swedish National Team, he's headed across the pond to play in North America for the first time.
Forsberg, 18, was acquired for veteran winger Martin Erat and prospect Michael Latta at the NHL's trade deadline on April 3.
The Östervåla, Sweden, native was projected as a can't-miss, top five pick in last summer's NHL Draft. In their 2012 Draft Preview magazine, The Hockey News had him ranked #2 while Central Scouting had him at #4. He fell to the Washington Capitals at 11 overall, however, as seven straight defensemen were taken from #4 to #10.
"We were surprised," Capitals General Manager George McPhee said after the draft. "We didn't expect Forsberg to be there at all."
Forbserg is expected to be in Nashville on Saturday and, according to Predators GM David Poile, may even play soon.
"The idea would be that he would practice in the morning skate with our team on Sunday," Poile told the media on Thursday. "And, if he feels good and the coaches like what they see, he may get an opportunity to play as early as Monday for us."
It's no coincidence that Monday's home tilt against the Vancouver Canucks is the one Nashville projects as his debut. If he plays six games or more, the Preds will burn a year of his entry level contract. Monday is their fifth-to-last game of the season.
This is a guy Predators fans should be very excited about. It's no secret that Nashville has drafted and developed pro-level and even elite-level defenseman over the years but producing that same caliber at forward has proven far more difficult. The only dynamic forward they seem to have drafted was Alexander Radulov in 2004 but he bolted to the KHL before realizing his true potential.
"With one of the best goaltenders in the world in Pekka Rinne, and the top defenseman in the game today in Shea Weber — along with Roman Josi, Kevin Klein and other young defensemen we continue to develop — we believe we are well positioned at these two positions, but have lacked a dynamic offensive forward." Poile said in the team's official press release regarding the trade. "In Filip Forsberg, we are adding one of the top rated young forwards in the world. We are excited to have him join our other emerging young talent and solid veterans at the position."
Add to that, the Predators have been without a first round pick in each of last two drafts. They traded their 2011 first rounder to the Ottawa Senators for Mike Fisher and then their 2012 first rounder to the Buffalo Sabres for Paul Gaustad. Each move was a necessary evil in order to become Stanley Cup contenders.
But now, almost out of nowhere, they find themselves at the bottom of the standings. In a weird way, this gives them their 2012 first round pick back and then some. After all, Nashville would have chosen 21st, well after Washington at #11.
The Predators can thank Erat. After requesting a trade, Poile and McPhee talked the night before, and the morning of, the trade deadline and, in the 11th hour, swapped disgruntled veteran leader for elite prospect. Nashville got what they needed: a key piece to the future and Washington got what they needed: a non-rental top-six winger who can help them get into the playoffs. It's almost as if his last duty as alternate captain was to give his old team a gift.
Coming into the 2012-13 season, Forsberg was ranked the 24th overall NHL prospect by Hockey's Future, he came in at #27 on TSN's Top 30 NHL Affiliated Prospects list in December (side note: fellow Preds prospect Austin Watson came in #22 thanks to his fast start) and Hockey Prospectus pegged the young Swede as the 12th best as recently as January.
And then there's the print publications. THN also publishes an annual Future Watch issue where they rank not only the top prospects league-wide but also each team's top 10. Forsberg — being a Capitals property at press time — is ranked second in their system and 21st in the entire NHL.
With Colin Wilson's maturity, Craig Smith's speed and potential, Taylor Beck and Gabriel Bourque becoming reliable offensive options, Watson coming into his own and now Forsberg's dynamicism, for the first time — maybe ever — the future looks bright for the Predators.
And not just on defense.
—
PHOTO CREDIT: Michael Erhardsson (permission pending)