Finland wasn't really an option as Rinne chooses KHL during lockout…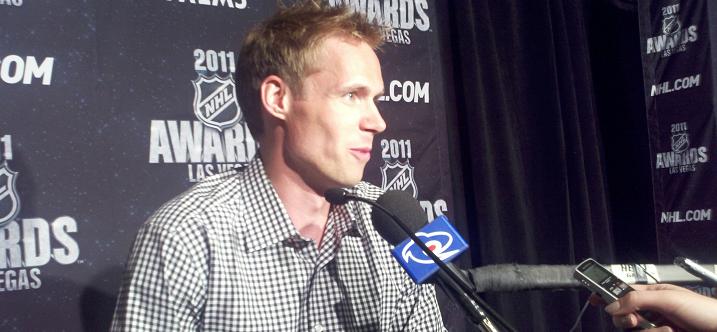 He's locked out out so why not?
Nashville Predators goaltender Pekka Rinne is headed to Dinamo Minsk of the KHL, according to his agent, Jay Grossman. Rinne, fresh off the ice at A-Game Sportsplex today, put the breaks on the news.
Albeit squeaky breaks that barely came to a stop.
"I haven't signed yet," Rinne said. "But we're probably pretty close. Hopefully everything falls together today and I'll know a little bit more after that."
Given the timing, it's very possible that Grossman closed the deal while Rinne was suiting up for the informal training session in Franklin, Tennessee and he wasn't aware everything was a go.
Dinamo Minsk in Belarus is a member of the KHL, a league that's seen a lot of locked out NHL players join the ranks. Alexander Ovechkin, Evgeni Malkin, Pavel Datsyuk, Nikita Nikitin and many others have temporarily defected to the league. Niklas Backstrom of the Minnesota Wild was supposed to be Minsk's goaltender but recently suffered an ankle injury. Rinne will take his spot between the pipes.
The KHL is an odd choice for the Kempele, Finland native considering the trend. Like most other NHLers, Rinne's Predator teammates are choosing their native countries during the lockout. Patric Hornqvist is headed to Djurgarden in Sweden while Roman Josi will play for Bern in Switzerland.
"My contract is a large contract and it's multi-year," Rinne said. "Insurance (for that kind of deal) is very expensive so I can't just go and pick a team where I want to go. It's a combination of many things and, yeah, playing in Finland would be awesome but, right now, it has to wait."
But why now? Why not wait for the first week of October to come and go to see if the NHL and the Players Association can agree on a new CBA before the league starts cancelling games?
"I want to be ready," Rinne said. "I'm by myself here in Nashville and I'm just training. If you have a chance to go play somewhere and (experience) a different culture too, you might as well. It's not far away from Finland either so hopefully everything falls into place. If it does, I'm excited to get back on the ice and play."
Predators fans read that their back-to-back Vezina Trophy finalist is headed elsewhere to play and one of the first concerns they have is injury.
"Obviously you have to be smart with insurance and stuff like that but, other than that, I never think about injuries," Rinne admitted. "My main focus is just to get ready and hope that the NHL season starts soon."
We hope that too, Pekka. We hope that too.
—
PHOTO CREDIT: Jeremy K. Gover // section303.com