Forsberg, Fiala, Jarnkrok make NHL.com's Top Prospects list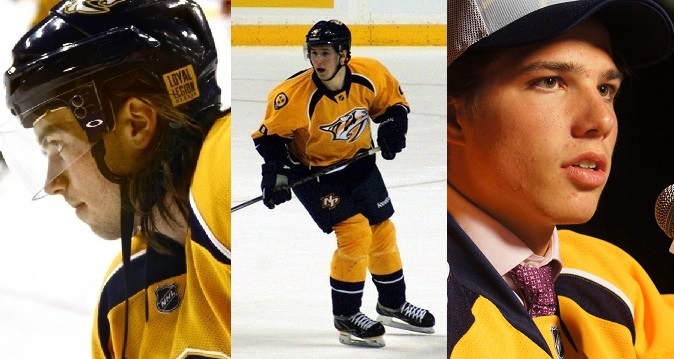 The NHL.com crew has released their Top 60 Prospects list for the 2014-15 season and the Nashville Predators are well represented.
Filip Forsberg, Calle Jarnkrok and 2014 first round pick Kevin Fiala all cracked the list and, what's even more exciting for Predators fans, they're all forwards. For an organization known for churning out NHL-caliber and even their fair share of Norris Trophy potential defensemen, it's nice to see the forwards in the system getting some national pub.
You can see the entire list HERE but below are the highlights of the Nashville selections.
12. Filip Forbserg – Predators officials admitted they rushed Forsberg to the NHL last season, but the 20-year-old dominated at the 2014 WJC and finished strong in the AHL. With the arrival of coach Peter Laviolette and a more up-tempo offense, the hope is Forsberg could be on the cusp of an NHL breakout.

36. Calle Jarnkrok – Acquired from the Detroit Red Wings in exchange for David Legwand in March 2014, the 5-11, 156-pound forward played 17 [sic] late-season games in Nashville. He also played on a line in the AHL with Filip Forsberg that has the Predators hoping the two can rediscover their chemistry together in the NHL with Jarnkrok in the middle and Forsberg at right wing.

46. Kevin Fiala – Fiala's fan club among the scouting community grew as last season went on, and the Predators picked the offensively gifted forward with the 11th pick of the 2014 draft. At 5-10 and 180 pounds, the 18-year-old will need at least one more season with HV 71 in Sweden to get bigger and stronger, but it won't be long before he brings his skills to North America.
Also, 2013 fourth round draft pick and 2014 World Junior Championship gold medalist Juuse Saros was an honorable mention, further reinforcing the goaltending factory that is the Nashville organization.
---
PHOTO CREDITS:
Jarnkrok: Kristen Jerkins
Forsberg: Sarah Fuqua
Fiala: Sarah Fuqua