Four UFA's jump ship; what will the 2011-12 Preds roster look like?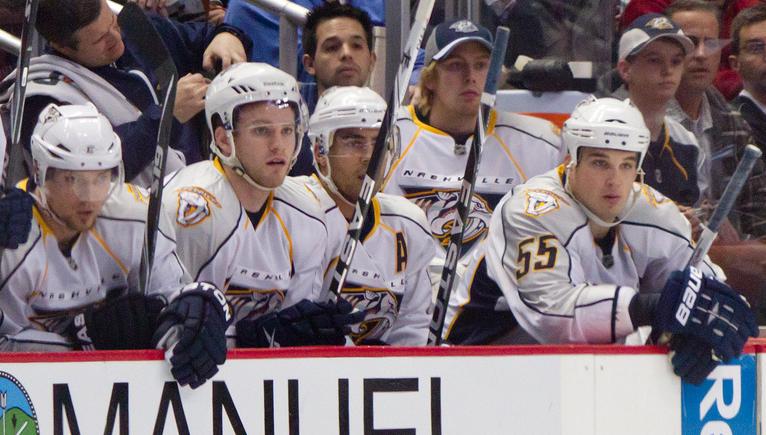 Today is July 1. The first day of free agency for the National Hockey League.
On this day, the Nashville Predators saw Steve Sullivan (Pittsburgh Penguins), Joel Ward (Washington Capitals), Marcel Goc (Florida Panthers) and even goaltending prospect Mark Dekanich (Columbus Blue Jackets) sign elsewhere. Also, earlier this week General Manager David Poile bought out veteran winger JP Dumont and said that the team will not be offering defenseman Shane O'Brien a new contract. That's five regular players and a prospect who will not be wearing a Preds sweater in 2011-12.
But wait…
There's also the Qualifying Offer fiasco. The National Hockey League Player's Association has officially filed a grievance on behalf of the four restricted free agents that allegedly didn't receive proper paperwork. Despite both the Predators and the NHL publicly stating that all paperwork was properly filed, Nick Spaling, Cal O'Reilly, Matt Halischuk and Sergei Kostitsyn all must wait and see if they're also unrestricted free agents. The ruling is set to come on Friday, July 8.
Let's assume for a second that the court rules in favor of the NHLPA, like they did in a similar situation with the Chicago Blackhawks in 2009. And, because of that, all four players sign elsewhere. Nashville is all of a sudden looking at nine players who were regulars during the 2010-11 season who won't be in the lineup in 2011-12. With no compensation for any of them, to boot.
And you thought the Florida Panthers got a makeover today.
Obviously the Predators have enough depth at blueline to survive O'Brien's loss, not to mention they were planning on losing him anyway. So let's focus on the forwards. What will the four lines look like come October? Every line is effected by the above scenario. David Legwand and Martin Erat lost their linemate in Ward so who steps up and takes his place? Newly acquired center Mike Fisher will skate with Patric Hornqvist but "SK74" would be absent. Jerred Smithson and Jordin Tootoo would be together but, again, there would be a void, this time because of Spaling. And the only players penciled into the fourth line would be youngsters Colin Wilson and Blake Geoffrion. And, quite honestly, Geoffrion probably starts off in Milwaukee if all things were normal.
But considering the Preds may be without eight forwards, Geoffion and prospects Michael Latta, Taylor Beck and Gabriel Bourque might just get a chance to crack the NHL lineup.
And you thought they were a young team last year.
Yes, there's plenty of time left in free agency and yes, there are plenty of decent names still on the market. Names like Simon Gagne, Tim Connolly, John Madden and Antti Miettinen. But, even if the Preds sign one (or even two) they can't afford to sign multiple available free agents. Especially since they're not the only team looking to fill some voids up front.
Needless to say, this is a very nervous time for Predators fans. Nobody knows what's going to come of the RFA's and, meanwhile, the UFA's that are signing contracts are getting paid "stupid money." If the court rules in favor of Nashville, then, as much as the loss of Ward, Sullivan and Goc hurts, it'll be a crisis averted. If the court rules in favor of the players however…. uh-oh.
—
PHOTO CREDIT: Bridget Samuels // special to section303.com (used with permission)