Fourth round pick Vainonen taken in CHL Import Draft by Kingston…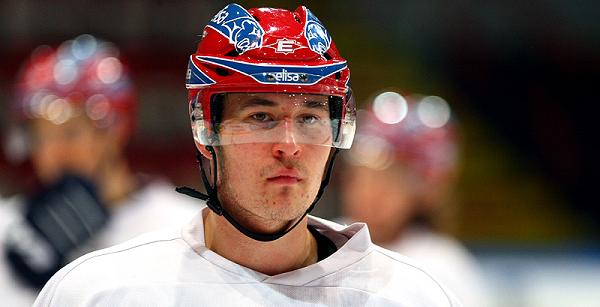 The Nashville Predators' European scouts have been very keen on identifying talent late in the draft year after year.
Apparently the Kingston Frontenacs agree.
The same Ontario Hockey League club that produced names like Florida Panthers prospect Erik Gudbranson, former Tampa Bay Lightning captain Chris Gratton and current Phoenix Coyotes netminder Mike Smith — along with former Preds Shane O'Brien and Drake Berehowsky — chose Mikko Vainonen with the sixth overall pick in the CHL Import Draft. He was the first defenseman taken.
Vainonen was the Predators' fourth round draft choice this past weekend at the 2012 NHL Draft.
Nashville's 2011 fifth round choice Simon Karlsson was also taken. The Swedish blueliner went in the second round to the Plymouth Whalers.
Every year, Canadian Major Junior teams (OHL, WHL and QMJHL) have the option to participate in the Import Draft. Each team can select up to two players from outside North America and add them to their roster. Must the players report to the teams that draft them? No. But it gives them the option to play on this side of the Atlantic if they so chose.
A recent example of this is David Elsner. The Landshut, Germany native was a seventh round pick of the Preds in 2010 and then was drafted by the Soo City Greyhounds with their second pick in the 2011 Import Draft. Elsner posted 14 points in 48 games in his first season of hockey in North America.
Vainonen was considered the 69th best player available in this years NHL Draft by The Hockey News but fell all the way to #118 before Nashville scooped him up. He is in town this week for Predators Development Camp.
Below is the Twitterverse reaction to Kingston picking the Preds prospect.
The Fronts are proud to select D-Man Mikko Vainonen with the sixth overall selection of the CHL Import Draft. Details @ ow.ly/bRh4p

— Kingston Frontenacs (@KingstonFronts) June 27, 2012
If Kingston can get Mikko Vainonen over here, they'll have two new great D-men with Roland McKeown joining the ranks, too.

— Ryan Kennedy (@THNRyanKennedy) June 27, 2012
Mikko Vainonen goes to Kingston. Figured yesterday that could be the guy. Said at the NHL Combine he wanted to come over to the CHL

— Sean Lafortune (@SeanLafortune) June 27, 2012
Kingston takes Mikko Vainonen and they will need to get him on program ASAP – #He'sABitHeavyTough Nasty player though #ImportDraft

— Mark Edwards (@MarkEdwardsHP) June 27, 2012
—
PHOTO CREDIT: HIFK.fi (permission pending)