Hal Gill re-ups with Predators…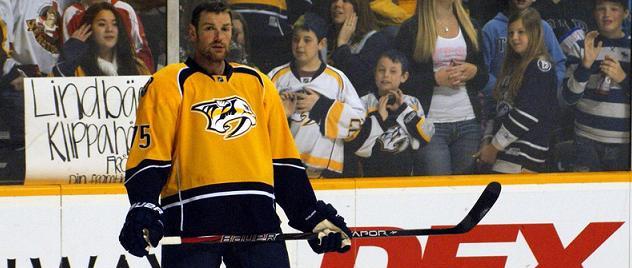 TSN's Ryan Rishaug is reporting that the Nashville Predators have re-signed defenseman Hal Gill.
The reported deal is a two-year contract worth $4 million.
The Concord, Massachusetts native is the only Predator with a Stanley Cup ring and provides tons of leadership on and off the ice. Gill not only kills penalties and provides stay-at-home security on the blueline but he embraced his mentorship of rookie defenseman Roman Josi in the short time they played together.
Some will knee-jerk this and think of it as insurance for Ryan Suter, who's set to become an unrestricted free agent on Sunday. While certainly Gill's  return softens the blow were Suter to leave, it's a transaction the Predators would have liked to have done regardless.
Gill, 37, was acquired a couple weeks before the trade deadline from the Montreal Canadiens in exchange for Brentwood, Tennessee native and fourth generation NHL'er Blake Geoffrion, Robert Slaney and a second round draft pick. He posted five assists in 23 games with Nashville.
If Nashville can re-sign center Paul Gaustad as well, they will have turned two of their three rental players into long-term solutions.
The $2 million-a-year price tag is extremely affordable considering he made $2.25 million in each of the last three seasons.
UPDATE (6.29.12): The official press release is below.
***
Nashville, Tenn. (June 29, 2012) – Nashville Predators President of Hockey Operations/General Manager David Poile announced today that the club has signed defenseman Hal Gill to a two-year, $4 million contract.
Gill, 37 (4/6/75), was acquired by the Predators from Montreal on Feb. 17, 2012, and suited up for 23 regular-season games (0g-5a) and five playoff games (0g-0a) for the club. One of the League's biggest players at 6-7, 240 pounds, Gill has played 1,070 regular-season games (36g-148a-184pts, 948 PIMs) and 110 playoff contests (0g-6a-6pts, 68 PIMs) since 1997-98 – more than any player currently on the Predators roster. He appeared in back-to-back Stanley Cup Finals in 2008 and 2009 with Pittsburgh, winning the Cup in 2009, and his 74 postseason games the past five seasons are the third most in the League.
The Concord, Mass., native was drafted 207th overall (eighth round) by Boston in the 1993 Entry Draft, and played eight seasons with the Bruins (1997-2006) before a pair of two-season stints in Toronto and (2006-08) Pittsburgh (2007-09). Gill played 196 games with the Canadiens from 2009-12 before being acquired by Nashville.
—
PHOTO CREDIT: Sarah Fuqua // Flickr (used with permission)