From Gary Glitter to The Black Keys, a goal song evolution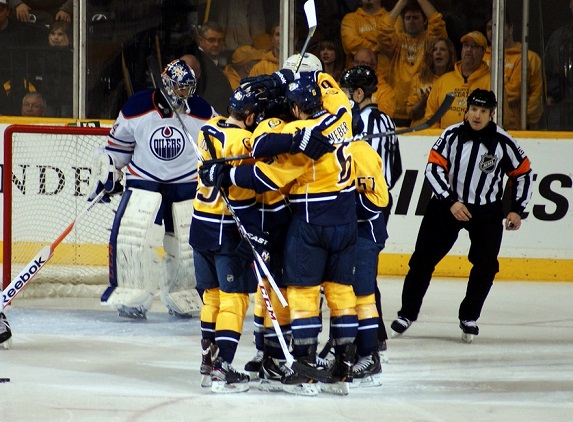 For 15 seasons, hockey fans have heard a special version of Tim McGraw's "I Like It, I Love It" every time the Nashville Predators score a goal. Also for 15 seasons, "I Like It, I Love It" has been followed by Gary Glitter's "Rock and Roll, Part 2." From this sequence, the 303 chants known around the hockey world were born.
During the Development Camp scrimmage on Saturday, however, the Preds seemed to have previewed a different take on the goal song.
In an appropriate change given the team's color scheme, Nashville's Game Ops crew has replaced "Rock and Roll, Part 2" with "Gold on the Ceiling" by The Black Keys.
REACTION
Despite being mostly positive, there was a mixed reaction by the fan base. A sampling is below.
@Fang_Faction @Cellblock303 Gold On The Ceiling played after Like It Love It. Nice change IMO

— Jason Harrison (@jasnva) July 12, 2014
NEW GOAL SONG GOLD ON CEILING YESSSS #preds

— Grey Cotham (@gcotham21) July 12, 2014
@Cellblock303 no and I hope they don't….that song is part of us — Nana5 (@cinwhileh) July 12, 2014
Well the preds new goal song is ok, not as good as the last one, but ehh oh well. #gopreds — matthew randolph (@mcrandolph18) July 12, 2014
@jasnva @Fang_Faction @Cellblock303 I've been wanting that for ages, makes so much sense

— SpikeFolganan™✙ (@VitalSilence) July 12, 2014
@justinbbradford the Preds just really need to do it & be done.I like it. If people threaten to not come to games over a goal song ¯\_(ツ)_/¯

— Grey Cotham (@gcotham21) July 13, 2014
REASON
Regardless of your opinion on the (probable) new goal song, the fact is that some Preds fans have asked for "Rock and Roll, Part 2" to be removed for years. Even before "Gold on the Ceiling" became a monster hit in 2012.
Gary Glitter is a convicted sex offender. He served four months in prison in 1999 after being found guilty of having child pornography on his computer in 1997. He was then deported from his residence in Cambodia to Vietnam after serving some more jail time for suspicion of child sexual abuse. Then, in 2006, he was arrested yet again, this time for molesting two Vietnamese girls, ages 10 and 11. And if all that wasn't enough, as recently as last month, Glitter was charged with eight counts of sexual offenses between the years of 1977-1980. The victims were between the ages of 12 and 14.
Nashville isn't the only sports franchise who has tried to move on from the song popularly known as "The Hey Song." In 2006, the National Football League asked all of their clubs to nix "Rock and Roll, Part 2."
EVOLUTION
As far as 303 goes, if the Predators do institute "Gold on the Ceiling," the arena-wide chanting of "You Suck!" will go away during the post-goal celebration. Unfortunately, it just wouldn't fit. However, one fan brought up a great alternative.
@justinbbradford @maryaminx @goverjkg @codeyh Oakland A's fans do it, we could switch it to Pekka Rinne/Carter Hutton http://t.co/hcJekPyMlm — Cameron (@Camgumpy) July 13, 2014
Instead of taunting the opponent, what if, after the goal song concludes, the 17,000+ inside Bridgestone Arena praised the goal scorer? Instead of "Hey… YOU SUCK!" it would change to a call-and-response "I… I believe… I believe in… I believe in Seth Jones! I believe in Seth Jones! I believe in Seth Jones!"
This would kill two birds with one stone. It would allow for the new goal song while still providing a fun post-goal chant and it would finally give that small sect of people who complain about the word "sucks" something to get behind and support.
CONCLUSION
Sometimes, in life, you have to work with what you're given. Whether you like the new goal song or not, it will change at some point. The idea is to make the best of out of the situation. We believe that instituting the new chant above does just that. That said, we'd love to hear your opinions and suggestions.
---
VIDEO CREDIT: Justin Bradford // Penalty Box Radio
PHOTO CREDIT: Sarah Fuqua (used with permission)