Preds continue off-season activities with the Hot Wing Face Off!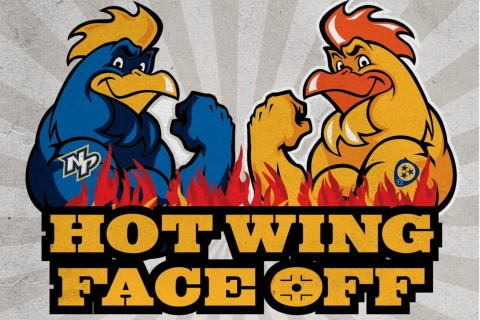 There may be 76 days until opening night but the Nashville Predators are giving hockey fans another great reason to get together during the dog days of summer.
The first annual Hot Wing Faceoff takes place tomorrow, Saturday June 26 at Bridgetone Arena. For four hours starting at 3:00pm, you can sample as many hot wings as your mouth can stand from a variety of local vendors. Several judges will be on hand to cast their ballots.
"In the end, one restaurant's going to be named the king," Predators President and COO Sean Henry said on 94.9 Game2 Friday morning. "They get the golden apron."
As a member of the team's front office, one would think Henry remains neutral. But he doesn't.
"I root for them all but I'd really like to see Corner Pub hang that golden apron," Henry admitted. "They're a favorite of mine because I go there three or four times a week with my family after every game, school or church.
"If I didn't root for them, I don't know what would happen to my food a couple times a week," Henry joked.
This is hardly the first summer event the Predators have hosted. They had their ninth annual Wine Festival & Tasting on April 24, an NHL Draft Party on June 27, held the second annual Craft Beer Festival at Tavern '96 on June 28 and have offered several Pucks & Pints sessions all summer long. The Hot Wing Faceoff is just the latest.
"It's a little more family friendly than the others," Henry said. "It's something that everyone can enjoy, it's a lower cost event and you get a ticket to a Preds game as well."
If you plan on going to a weekday Predators game this October or November anyway, why wouldn't you attend tomorrow? With admission, you get that ticket you were going to buy anyway for free all while enjoying the festivities with your fellow hockey fans.
"It's fun to see people get together that normally spend 41 nights a year together," Henry said. "It's just fun to make people talk hockey all year 'round. We're building something pretty special because of this fan base."
Cities like Toronto, New York, Vancouver, Montreal and St. Paul are no stranger to constant hockey banter. Music City is trying to get there and events like this help that cause.
"We have an opportunity to expand our footprint and make Preds hockey a little more front-of-mind 12 months a year," Henry said. "None of that would be possible without a very passionate group of fans."
One of the best parts of the event? Donations will be taken on behalf of Big Brothers/Big Sisters of Middle Tennessee.
Why battle the horrendous heat when you can be inside an air conditioned Bridgestone Arena enjoying all the wings you can eat? Make plans to head on down to 501 Broadway tomorrow afternoon.
You can sign up HERE. The official press release is below.
---
Nashville, Tenn. (July 23, 2014) – Fans are invited to Bridgestone Arena on Saturday, July 26 from 3-7 p.m., to escape the summer heat and vote to help crown Nashville's best hot wing in an afternoon full of unlimited wing samples, live entertainment and more. Competing for the best hot wing crown in the inaugural event are eight local favorites: Bolton's Spicy Chicken and Fish, Brother Z's Wang Shack, Corner Pub, Crows Nest, Gus's World Famous Fried Chicken, Mineo's Wings Pizza and Raw Bar, Sam's Sports Grill and food truck Smokin Thighs.
In addition to the panel of celebrity judges, everyone in attendance will get to cast a vote to help name Nashville's best hot wing. Celebrity judges include Miss Nashville Kaileigh Bullard, 102.5 The Game's Darren McFarland and Joe Dubin, News Channel 2's Justin Bruce, 102.9 The Buzz's Zigz and Nashville Predators Alumnus Jay More.
Tickets are just $40 and include entry into the festival, unlimited tastings, a vote for the best hot wing in Nashville and a voucher for a Monday-Thursday night Predators regular season home game in October or November (excludes Opening Night). For an additional $7, fans can purchase a Preds souvenir cup that entitles them to unlimited fountain drinks during the event. Concessions will be available for purchase, including $2 fountain drinks and $4 beers.
Donations will be collected in support of Big Brothers Big Sisters of Middle Tennessee. Call (615) 770-2352 or visit nashvillepredators.com/hotwing for more information and to purchase tickets.