Geoffrion returned to Milwaukee, Klein officially to IR…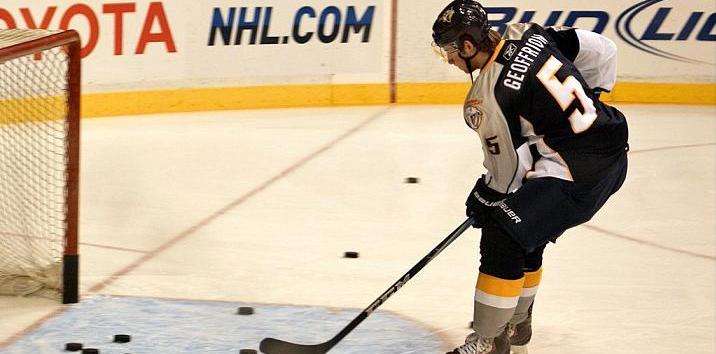 When Gabriel Bourque was recalled yesterday afternoon, it was a very peculiar move by the Nashville Predators. This is a team that rarely recalls anyone on a non-gameday, let alone well after the usual 11am or noon hour.
Today, we got a reason why. And no, it wasn't trade-related.
Preds forward Blake Geoffrion has been reassigned to the AHL-affiliate Milwaukee Admirals.
Geoffrion isn't exactly relied upon for his scoring touch but he has to at least cheap in every once in a while, something he hasn't done since his hat trick in Buffalo on March 20 last season. He's now played in 43 NHL games (including playoffs) without finding the back of the net.
In the same release, Nashville also stated that defenseman Kevin Klein has finally been put on injured reserve with "an illness" (a/k/a "the flu").
The Bourque recall is still peculiar (even in the light of Geoffrion's reassignment) as one would think the two moves would go hand-in-hand. Nashville recalls Bourque and sends Geoffrion down in the same transaction. Instead, it was a single recall.
Not saying anything is afoot. Just saying it's an odd series of events for this organization.
The official press release is below.
***
Nashville, Tenn. (December 28, 2011) – Nashville Predators President of Hockey Operations/General Manager David Poile announced today that the club has reassigned forward Blake Geoffrion to Milwaukee (AHL) and placed defenseman Kevin Klein on injured reserve.
Geoffrion, 23 (2/3/88), has three assists in 22 games for the Predators this season, and one assist in three games for the Admirals.
Klein, 27 (12/13/84), has missed the past four games due to illness.
The Predators wrap up their December home slate tonight when the Minnesota Wild come calling for a McDonald's Family 4 Pack game in Smashville (7 p.m., FOX Sports Tennessee, 102.5 the Game). The team closes out their 2011 calendar on Dec. 30 when they take on the division rival St. Louis Blues at the Scottrade Center (7 p.m., FOX Sports Tennessee, 102.5 the Game). The Preds ring in the new year on New Year's Day when they face the Calgary Flames for a special 5 p.m. start time (FOX Sports Tennessee, 102.5 the Game). To purchase tickets, visit nashvillepredators.com, ticketmaster.com or call 615-770-PUCK (7825).
—
PHOTO CREDIT: Sarah Fuqua // Flickr (used with permission)