Poile up to something? Roster freeze over, Bourque recalled…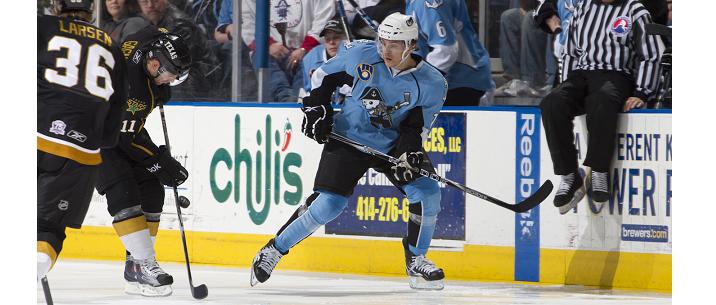 Within the past 36 hours, the Nashville Predators have recalled two top prospects from their AHL affiliate, the Milwaukee Admirals. On Monday they recalled defenseman Ryan Ellis and today they announced that forward Gabriel Bourque was on his way to Music City.
Bourque, Nashville's fifth round pick in 2009, tallied 18 goals and 36 points in his first pro season last year. He hasn't shown any signs of slowing down either as he's already amassed 16 points in 25 games this season. He leads all Admirals in assists (14) and is their seventh leading scorer.
But are the Predators really calling Bourque up for scoring depth? Not likely. Nashville, as of now, has a healthy forward roster and adding someone else is interesting. Also, teams usually don't recall players on non-game days because it doesn't make financial sense to do so. In this case, Bourque was officially recalled on a non-game day and in the middle of the afternoon, not around 11am or noon, per usual.
It'll be interesting to see if something else comes up now that the NHL roster freeze has expired.
The 21-year old Rimouski, Quebec native really turned some heads in training camp. A long shot to make the club straight out of camp, he was one of the last forwards cut. Furthermore, Head Coach Barry Trotz told the media after the pre-season game on October 1 that "if he plays like he has been playing, we'll find a way to get him here this year."
Bourque won a silver medal for Team Canada, along with Ellis, at the 2010 World Junior Championships in Saskatoon and Regina, Saskatchewan.
If Bourque suits up for Wednesday night's tilt against the Minnesota Wild, he will become the sixth Nashville Predator rookie to make his NHL debut this season. Craig Smith (October 7), Mattias Ekholm (October 13), Ryan Thang (October 31), Roman Josi (November 26) and Ellis (December 26) were the others.
Smith, Josi and Ellis are still on the roster. Looks like one of the NHL's youngest teams just got younger.
The official press release is below.
****
Nashville, Tenn. (December 27, 2011) – Nashville Predators President of Hockey Operations/General Manager David Poile announced today that the club has recalled forward Gabriel Bourque (gah-BREE-ehl BOHRK) from Milwaukee (AHL). This is the Rimouski, Que., native's first career recall – he has yet to appear in an NHL game.
Bourque, 21 (9/23/90), leads the Admirals in assists (14) in 25 games this season, most recently notching three helpers in Milwaukee's 7-3 victory over Rockford on Monday night. Nashville's ninth choice, 132nd overall (fifth round), in the 2009 Entry Draft ranked third on the Admirals in goals during his rookie pro season in 2010-11, then led Milwaukee in 2011 Calder Cup Playoff goals (7) and points (13), while ranking second on the team in postseason plus/minus (+7).
The 5-10, 192-pound left wing finished off his junior career in 2010 by helping Moncton win the President's Trophy as QMJHL Champions and advance to the 2010 Memorial Cup, earning the Guy Lafleur Trophy as Playoffs MVP in the process. Bourque earned a silver medal with Canada at the 2010 World Championships, and tied a Team Canada record for points in a World Junior Championship game with seven (3g-4a) in the nation's opening-game win over Latvia.
The Predators wrap up their December home slate tomorrow night when the Minnesota Wild come calling for a  McDonald's Family 4 Pack game in Smashville (7 p.m., FOX Sports Tennessee, 102.5 the Game). The team closes out their 2011 calendar on Dec. 30 when they take on the division rival St. Louis Blues at the Scottrade Center (7 p.m., FOX Sports Tennessee, 102.5 the Game). The Preds ring in the new year on New Year's Day when they face the Calgary Flames for a special 5 p.m. start time (FOX Sports Tennessee, 102.5 the Game). To purchase tickets, visit nashvillepredators.com, ticketmaster.com or call 615-770-PUCK (7825).
—
PHOTO CREDIT: The Milwaukee Admirals (used with permission)