Geoffrion upheld his family's legacy, gave young Middle Tennessee hockey players a dream…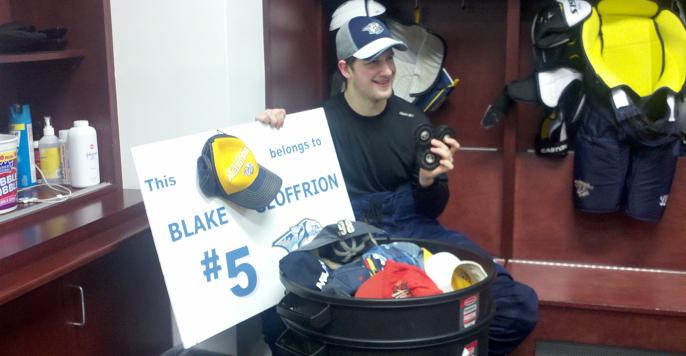 According to ESPN's John Buccigross, former Nashville Predators forward Blake Geoffrion has decided to retire from the sport at just 25 years old.
Geoffrion, a Brentwood, Tennessee, native, became the first NYHL player to ever make the National Hockey League. In doing so, he gave young Middle Tennessee hockey players an example that you don't have to be from Canada, Minnesota or New England to play in the NHL.
The Predators chose him in the second round of the 2006 NHL Entry Draft. He would go on to captain the Wisconsin Badgers in his senior season, en route to the Hobey Baker Award as college hockey's best player. He then joined Nashville's AHL affiliate, the Milwaukee Admirals, during the playoffs and potted two goals in three games before being sidelined with an injury.
He would eventually make his NHL debut on February 26, 2011 in Dallas, Texas. His first NHL point was a goal against the Oilers in Edmonton just two games later. He scored Nashville's first goal against the Vancouver Canucks the very next game and it turned out to be the game winner, the only one of his career.
In Predators lore, however, he's best remembered for recording a hat trick against the Buffalo Sabres in upstate New York on March 20, 2011. In a game Nashville had looked absolutely dead in, Geoffrion bagged his second and third goals in the final 2:27 of regulation. Martin Erat would score the winner in overtime, giving Nashville an absolutely improbable victory.
Because the first ever native Tennessean had tallied a hat trick on the road, it was only right to celebrate once the team — and its hero — returned home. On March 22, Preds fans were given the option to celebrate his feat by throwing hats into a bin at the main entrance. The hats would then be handed over to the team and presented to Geoffrion after Wednesday morning's practice.
Fox Sports Tennessee, nashvillepredators.com and every major news outlet in Nashville were there to film the presentation.
We spoke with Geoffrion at practice that morning and below is the exclusive interview.
When he suited up for his first NHL game, Geoffrion became the first ever four-generation pro sports athlete. His great-grandfather Howie Morenz and grandfather Bernie "Boom Boom" Geoffrion are Hall of Famers while his father, Danny Geoffrion, played in 111 NHL games.
Thanks to his being dealt for Hal Gill two weeks before the 2012 trading deadline, all four members of the family suited up and played for the Montreal Canadiens.
Geoffrion was the victim of a fractured skull and a concussion while playing in a game for the Habs' minor league affiliate, the Hamilton Bulldogs.
While it's incredibly sad to retire at the age of 25, there's no denying he lived the dream. He got to play in the National Hockey League, he got to play for his boyhood hometown team, the Predators, and he even got to carry on his family's tradition of playing for Montreal. If you had told him all of that when he was 12 years old, I'm sure he would have gladly taken it.
All the best to you, Blake. You lived the dream and even inspired young hockey players all over Middle Tennessee to have theirs. Your great-grandfather and grandfather would be proud.
***
section303.com: How did you hear about the hats?
Blake Geoffrion: I heard yesterday after the game. Kevin (Wilson) had a list of things for me to do (in the morning) and that was one of the things on the list and I was like "Oh wow, that's pretty special." You know, it's kind of cool to capture the moment with a picture just to have the memory. One thing I remember, as a kid, was watching David Legwand when he scored his hat trick. It was at home. He scored his third goal on a empty netter and they collected all the hats on the ice and they put them in front of his stall. He had all the hats and all the pucks and that was kind of a cool photo that I'm sure he'll have for the rest of his life. So that was pretty cool and, to have you guys do that for me, it was very special to me and I really appreciate it.
section303.com: What does it mean to be playing for a fan base that cares enough to do a gesture like that despite the fact that your milestone was on the road?
Blake Geoffrion: Yeah, I mean, that speaks highly of our fans and how passionate they are and how respectful they are of us. I just can't say thanks enough for what they did and hopefully we can pay it back by making the playoffs and making a good playoff run.
section303.com: A year ago — almost right now, actually — you were in the Frozen Four, you were named the Hobey Baker Award winner, you were an ESPY nominee, etc. Fast forward a year later, you've played 12 games in NHL, you just recorded your first hat trick… What's the ride been like in these past 365 days?
Blake Geoffrion: Yeah, it's been a long one for sure. Not really knowing what's going to happen and going into training camp and having a lot of guys there. I knew I had to work hard if I wanted to get an opportunity and, of course, I've kinda had a little luck with all the guys that have gone down on injury but I'm just very very blessed by the good Lord that's given me the opportunity. Hopefully I can take advantage of it like I have so far and can help these guys make the playoffs.
section303.com: Finally, how fun is this for you? You started the year in the AHL and you were only called up due to injuries but you've really proven your worth here… and now you're in a playoff race. How fun is this?
Blake Geoffrion: Oh it's unbelievable. I mean, this is what you dream of, first to make the NHL and then be in contention for the Stanley Cup, which we definitely have an opportunity to do so. Every kid dreams of this in their backyard playing roller hockey or on the ice. They're saying in their minds "Here comes Geoffrion down the left wing, he shoots and scores and wins the Stanley Cup!" You know so, that's what you dream of as a kid when you make the NHL, if you ever do. So this is awesome and the best time of year.
section303.com: Thank you so much.
Blake Geoffrion: Alright man. And hey, thanks again for the hats, I really appreciate it.
—
UPDATE (2:49pm Central): The Tennessean's John Glennon is reporting that Geoffrion has not actually made a final decision but, instead, put the Canadiens organization on notice that he's considering retirement. You can read Glennon's story HERE.
PHOTO CREDITS: Jeremy K. Gover // section303.com