Flames acquire Brian McGrattan from Preds, send Joe Piskula to Nashville…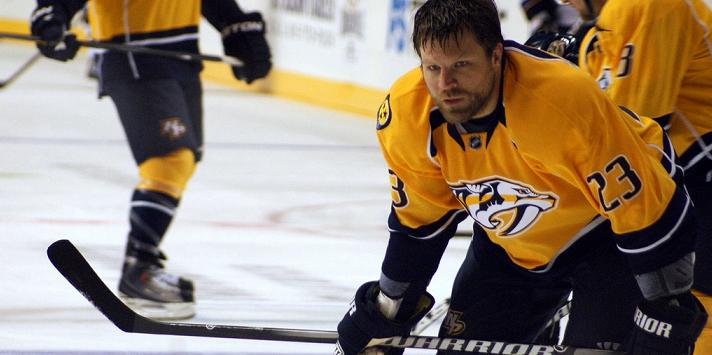 In a surprising move given that he was on waivers just 24 hours ago, the Calgary Flames acquired Nashville Predators forward Brian McGrattan this morning.
The Preds received defenseman Joe Piskula in return.
McGrattan collected two points in 32 games over two seasons with Nashville and had been playing with their AHL affiliate, the Milwaukee Admirals, since being assigned there for a conditioning assignment on February 15. He was officially assigned to the Ads on Tuesday and cleared waivers yesterday.
Calgary General Manager Jay Feaster could have claimed the Hamilton, Ontario, native Tuesday night or Wednesday morning without having to give anything up in return but chose the trade route instead. Speculation is because the Flames are close to the NHL roster limit of 60 (they have 59) and need to keep one open in case another trade happens in the near future.
Cue Jarome Iginla and Jay Bouwmeester rumors.
The addition of Rich Clune during training camp made "Big Ern" expendable. He plays a more complete game with a strong forecheck, decent speed and good hockey sense, as well as being able to drop the gloves.
While he will report to the Abbotsford Heat to start, Sportsnet's John Shannon believes he'll be a Flame before long.
Back in 2004-05, McGrattan set the AHL record for most penalty minutes in a season (551).
Piskula has played in 10 NHL games during his pro career, split evenly among the Los Angeles Kings and Flames. He's registered eight PIMs and a minus-8 rating. He's slated to join the Admirals.
The official press release is below.
***
NASHVILLE, Tenn. (February 28, 2013) – Nashville Predators President of Hockey Operations/General Manager David Poile announced today that the club has acquired defenseman Joe Piskula from the Calgary Flames for forward Brian McGrattan. Piskula will report to the Predators primary developmental affiliate, the American Hockey League's Milwaukee Admirals.
Piskula, 28 (7/5/84), has 10 points (2g-8a) and 51 penalty minutes in 46 games for Calgary's AHL affiliate, the Abbotsford Heat, in 2012-13. A professional since the completion of his collegiate career in 2007, the Antigo, Wis., native has played in 10 career NHL games with Los Angeles (2006-07) and Calgary (2011-12), going scoreless and posting eight penalty minutes. In 370 career AHL contests with the Flames and Kings organizations, Piskula has 70 points (8g-62a) and 320 penalty minutes.
The 6-3, 214-pound blueliner played 112 games during a three-year career at the University of Wisconsin from 2004-07, posting 22 points (3g-19a) and 80 penalty minutes. In 2006, he helped the Badgers claim the NCAA title.
—
PHOTO CREDIT: Sarah Fuqua (used with permission)