Habs spoil Nashville's 1000th game with OT winner…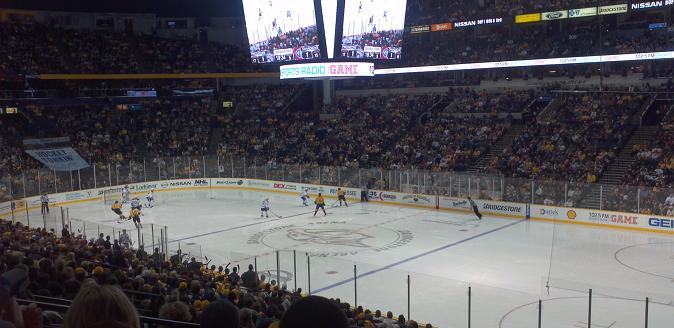 Game #1 in Nashville Predators history was a low scoring affair against an Eastern Conference opponent.
Game #1,000? No different.
The Montreal Canadiens, in front of Hockey Night in Canada cameras, spoiled the Preds' 1,000th game with a 2-1 overtime victory. Nashville got a shorthanded goal from captain Shea Weber, as well as 23 saves from Pekka Rinne, but it wasn't enough on this night.
The visitors capitalized on an odd-man rush to open the scoring. David Desharnais scored his third of the season while breaking in three-on-one and deke'ing around Rinne. The goal review was abnormally long but, in the end, the goal stood, giving the Habs a 1-0 lead late in the first.
In the middle frame, Weber scored the rare ("uber-rare" for a defenseman) shorthanded goal after receiving a Montreal-zone face-off was won back to Ryan Suter. His blast evened the score and gave the Preds captain his third career shorthanded tally.
The 17,113 inside Bridgestone Arena had to wait until the overtime session to see any more goal scoring, however. When the final goal was scored, it came from the stick of Montreal's Max Pacioretty. Well, actually, it came off the stick of Nashville blueliner Kevin Klein. Pacioretty took a wrist shot from the left face-off dot and, in an attempt to block it, Klein's stick caused the puck to knuckle. The floating puck fooled Rinne and went in under the crossbar for the winning goal.
While the 1,000th regular season game in franchise history may go down as a loss, they do get a point out of it thanks to overtime. The Predators have now secured a point in all but one of their last eight games. They're now 8-5-3 on the season and are tied for fourth place in the West.
Nashville's 1,001st game will come Tuesday night against the Southeast Division leading Washington Capitals.
Puck drops at 7:00pm Central at 501 Broadway.
LEFTOVER THOUGHTS:
* Nick Spaling was activated off the Nashville IR before the game. He skated on the fourth line with Blake Geoffrion and Niclas Bergfors.
* This was Geoffrion's first time facing his his great-grandfather, grandfather and father's old hockey club.
* Montreal's Jaroslav Spacek actually played in Predators game #1 back on October 10, 1998. He was a member of the Florida Panthers then.
* The Preds have scored shorthanded goals in back-to-back games.
* With 0:18 remaining in regulation, Rinne absolutely robbed Erik Cole who was standing all alone in the slot area.
* This was the first time the Predators haven't scored at least three goals in any one game since their 3-1 loss to the San Jose Sharks on October 25.
* Props to FS-Tennessee who dug up old photos of vintage Predators Bob Boughner, Bill Houlder, Jan Vopat, Vitali Yachmenev and even Denny Lambert. There were many more but the others you almost expected to see. Denny Lambert? C'mon. Well done FS-Tennessee. Well done.
THE THREE STARS OF THE GAME:
1) Max Pacioretty (MON)
2) Peter Budaj (MON)
3) Pekka Rinne (NSH)
—
PHOTO CREDIT: @daisyrae87 // Twitter