The two best Preds goaltenders of all-time put on a clinic Tuesday night…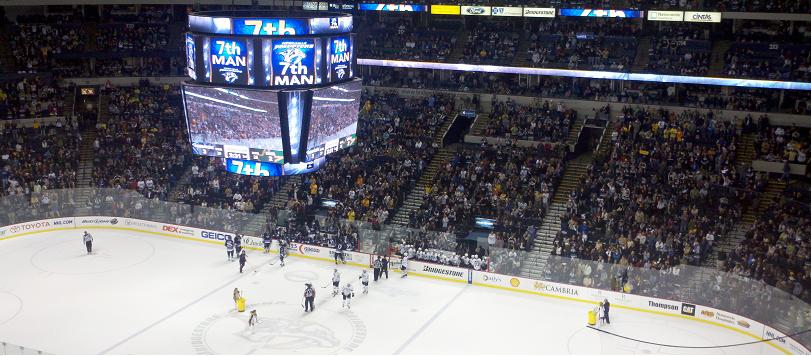 Wow. What a game.
The Nashville Predators beat the Washington Capitals 3-1 on Tuesday night but don't let the score fool you. This game was a goaltending duel.
The combatants? The two winningest goaltenders in Predators franchise history.
In this corner, donning a Caps sweater, Tomas Vokoun. The original Predator is Nashville's all-time franchise leader in wins. He collected 161 of them in eight seasons in Music City.
In this corner, wearing Predator Gold, the $49 million man himself, Pekka Rinne. The 6'5″ Finn is now the club's record holder for shutouts in a season (23) and is just 57 wins shy of erasing Vokoun's name from the organization's record books.
"It looks good on paper and it's a big game for the fans," Rinne said about facing Vokoun. "He was a great player for this franchise."
The two netminders traded great save after great save throughout the first 55:00 of the contest. Rinne would deny an odd-man rush and Vokoun would make a save through traffic. Rinne would flash the leather and Vokoun would kick out a rebound. Rinne would blindly reach behind himself to make a stop and Vokoun would close the five-hole on a breakaway.
"It was fun to play against him. He played a great game," Rinne said.
Rinne turned aside 33 shots before allowing Troy Brouwer's wrist shot with less than 5:00 remaining in regulation. The former Chicago Blackhawk tucked the puck right under the crossbar to give Washington the 1-0 lead.
All 14,863 inside Bridgestone Arena feared the worst. In a game that took so long to see a goal, and with the goaltending clinic being displayed on both sides of the ice, it looked like it was going to be "first goal wins."
Less than a minute later, however, the Preds answered, solving Vokoun for the first time. Captain Shea Weber carried in with Martin Erat crashing the net. Absolutely believing Weber was going to blast one of his patented slap shots, Vokoun over committed. Weber responded by throwing a pass over to Erat who slammed home the one-timer for the tying score.
"It was huge," Rinne said. "What a play by 'Webby.' He used his speed and made a nice pass to Marty who pretty much had an empty net. Huge play by those guys."
In the final minute of play, Colin Wilson carried the puck deep into the Caps zone seeing his team was in the midst of a line change. With an Erat-esque spin move in the corner, Wilson was able to lose his defender, buying time for his teammates to take the ice. After getting the puck to Erat, Wilson crashed the net and ended up scoring the game-winning goal with just 0:25 left.
The Caps would call their timeout in order to regroup but that didn't matter to the Predators as they won the face-off back to Weber who promptly scored on the empty net a mere five seconds after Wilson's tally.
Rinne and Nashville will now turn their attention to another Eastern Conference opponent. On Thursday, the Toronto Maple Leafs make a rare trip to 501 Broadway. It will be former Predator Cody Franson's first appearance in Nashville since game six of the Western Conference Semi-Finals last season. It will also be former Pred Matthew Lombardi's first game in Nashville since… well… opening night of last year.
Puck drops at 7:00pm Central.
LEFTOVER THOUGHTS:
* Weber, Erat and Ryan Suter all finished with a plus-3 rating.
* Not a single penalty was called in the third period.
* Craig Smith was held shotless for only the second time in his brief NHL career.
* You wouldn't be able to tell from the score sheet but Erat, who had a goal and an assist, played a terrible game. Easily the worst game I've personally seen from a guy who was voted a star of the game. His decision making was subject at best, he failed to clear his own zone a handful of times and his errant passes derailed more than a few power play opportunities.
* Kevin Klein (23:27) logged more ice time than Weber (22:06). Weber, after all, did spend 2:00 in the penalty box.
* As someone suggested on Twitter, the first star of the game should have been Mitch Korn. The Predators goaltenders coach has been here since day one, meaning Vokoun and Rinne's success has come as a direct result of his teachings.
MY THREE STARS (as voted on with 6:31 remaining in regulation):
1) Pekka Rinne (NSH)
2) Tomas Vokoun (WSH)
3) Shea Weber (NSH)
THE THREE STARS OF THE GAME:
1) Pekka Rinne (NSH)
2) Colin Wilson (NSH)
3) Martin Erat (NSH)
—
PHOTO CREDIT: Jeremy K. Gover // section303.com