Have Preds assembled pieces for long term success?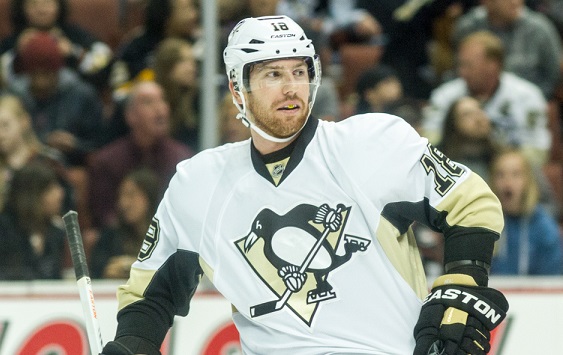 There was no question that the Nashville Predators owned the first day of the 2014 NHL Draft. Not because they had the first overall pick or because they chose a "can't miss" prospect who fell to them at 11th overall. It was because they traded for Pittsburgh Penguins winger James Neal.
"This has Peter Laviolette's fingerprints all over it," NHL Network studio analyst Jamie McLennan told us. "[He's] wanting to get some skill in there and play that up-tempo game. It was a nice proactive move by Nashville."
Neal, a second round pick of the Dallas Stars in 2005, is a five-time 20-goal scorer. How much of that success is due to his linemates, though? That's the question.
"He's going to wake up tomorrow not having Evgeni Malkin pass him the puck," McLennan said. "He's going to have to develop chemistry with someone in Nashville."
Poile made an effort to point out that Neal is a good player in his own right.
"His record is excellent with Malkin – who's isn't? – but it's actually very good without Malkin," Poile said. "I mean, he's got what we're looking for. He's got the speed, he's got the shot, he scores goals, he produces and he gets points."
Neal broke the 40-goal barrier in 2011-12 with the Penguins. Preds fans should temper their expectations, however.
"If somebody scores 40 goals one year, that doesn't make him a 40 goal scorer every year. It makes him a 40 goal scorer that year," McLennan said. "It'd be safe to say that James Neal can score 30 goals every year. I think he's a terrific shooter. He puts himself in good spots to have some success. But you do want to gravitate toward that 40 goals because he's a young guy still."
A young guy indeed. Neal is just 26 years old, putting him right in that nucleus of impact players wearing gold. Three-time Norris Trophy finalist Shea Weber is 28, Roman Josi is just 24 and Seth Jones isn't even 20 yet. At forward, Nashville has an up-and-coming corps that features a 24-year old Craig Smith who had a breakout year last year, a 19-year old Filip Forsberg who's a superstar in the making, a 22-year old Calle Jarnkrok who produced at nearly a point-per-game pace last year and now Neal.
"Our players are all at the right age," Poile said "For a team that hasn't made the playoffs the last two years, I really feel like we're going in the right direction. I think they're going to be pretty important cogs in our team and hopefully are going to give us more offense than we've ever had before.
"We're confident in our goaltending and we're confident in our defense. We just want to get better at our forwards."
And that seems to be taking shape. Poile was able to turn veteran Martin Erat into Forsberg at the 2013 trade deadline and then David Legwand into Jarnkrok a year later. With the drafting of Kevin Fiala two weekends ago, 2012-13's leading scorer in all of major junior Brendan Leipsic turning pro this season, Pontus Aberg coming over from Sweden for the first time, Miikka Salomaki emerging as an exciting two-way forward and the maturity of Austin Watson in Milwaukee, the Predators seem to be turning a corner.
And that's not to mention the coaching change.
"You need to be able to generate offense in today's game," McLennan said. "That's where Peter Laviolette is going to come in."
"With Peter coaching our team, we're going to be playing a little bit of a different style," Poile added. "With James Neal and with the type of defense [we have] with Josi, Weber, Jones and [Ryan] Ellis, I think we're moving in the right direction to get back in the playoffs and compete for a Stanley Cup."
That Stanley Cup puzzle may not be complete without a number one center, however. Top free agent prize Paul Stastny signed in St. Louis and Ottawa's Jason Spezza flat out said he didn't want to play in Nashville. Now with Neal in the fold and the rising crop of offensive talent coming up through the ranks, Poile hopes it'll make the Predators a more desirable landing spot for that coveted center.
"I have to believe it helps," he said. "I'm patient. We've got time. If it happens now, that would be great. If it takes a little bit more time, it's not perfect but we do have some young kids."
Those kids would be Watson, Colton Sissons and Jarnkrok. All three had solid years in Milwaukee and could be ready to make the jump. Are any of them able to log important minutes with Mike Fisher being out for 4-6 months or does recently signed Olli Jokinen get top line duty until Fisher returns?
Rarely can a club put all the pieces to their Stanley Cup puzzle together at one time. Especially a club that hasn't been to the playoffs in two seasons. One thing is for certain, Nashville may not emerge as a Western Conference power this year, but they're on their way.
"The challenge is who comes out of the West?" McLennan said. "It's such a deep conference. Minnesota's not going anywhere, Colorado's not going anywhere, certainly Los Angeles and San Jose [aren't]. You have to get better just to compete against the Western powerhouses."
Nashville has gotten better. It's time to see if a coaching change, a focus on offense and the acquisition of Neal are enough to knock out a Minnesota.
Or a Colorado. Or a Los Angeles. Or a…
---
PHOTO CREDIT: Bridget Samuels (used with permission)