Preds testing the Russian Factor with Kamenev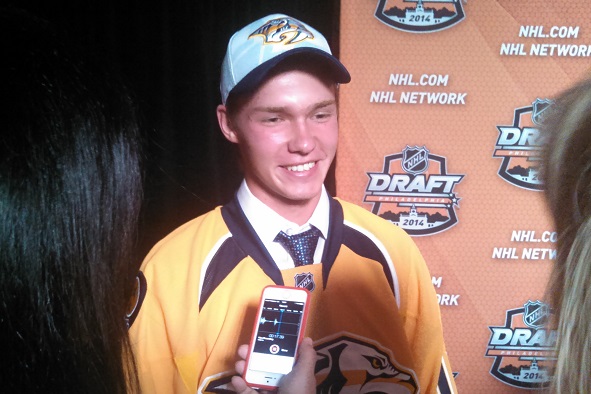 When the Nashville Predators took to their draft table microphone on Saturday, June 28, they spoke the name of a Russian, something they haven't done in 10 years.
Nashville's first pick in the second round was a highly touted KHL player named Vladislav Kamenev. Not since taking Alexander Radulov and Denis Kulyash in 2004 had they called a Russian's name at the NHL Draft.
Most Russian prospects have fallen in recent drafts because the KHL can influence them to stay in their native land with a highly competitive professional league and more money (read: no salary cap). That influence, however, seems to be fading.
"Things have really changed in terms of their development and the KHL situation," General Manager David Poile said. "Your ability to get these players or not get these players, it seems like it's getting to be a better situation where they're coming over and playing junior in some cases."
Kamenev has the option to do just that. The Orsk, Russia native was taken second overall in the CHL Import Draft last week by the Quebec Remparts of the QMJHL, the same junior team that Radulov suited up for.
"Even if you go back to the Washington situation, they got Evgeny Kuznetsov late in the first round," Poile said. "He's a player that arguably could have gone a lot higher and some people said he'd never come over but I think they all want to play in the best league in the world."
"If you look around the league, there's a lot of teams finding ways to get these guys to come over," Chief Amateur Scout Jeff Kealty said. "You look at Tampa, you look at Washington, LA's had guys come."
While that's true, there's a major difference between those clubs and the Predators. Washington already had a guy named Alexander Ovechkin. Tampa Bay was able to lure goaltender Andrei Vasilevski over the Atlantic due to having already drafted talented forward Nikita Kucherov a year prior. And Los Angeles is not only a destination city for someone overseas but they've now won two of the last three Stanley Cups and had Russians like Slava Voynov and Andrei Loktionov in the meantime. In short, if you're a Russian kid who has the choice to stay home and play professional hockey in the KHL or volunteer for a dose of culture shock by attempting a career in the NHL, it's a lot easier to choose the Western Hemisphere when there are already guys from your home country there to help with the transition.
Nashville, on the other hand, has had zero Russians on its active roster since Radulov re-joined them late in 2012 and then departed again shortly after the season ended. Kamenev – who speaks very little English – may feel like he's on an island in an organization that boasts zero of his countrymen.
In fairness, the Preds did just sign free agent defenseman Anton Volchenkov but he's only signed for one year. Unless he impresses them so much to earn an extension, he'll be long gone by the time Kamenev is ready for the NHL.
Either way, the Predators did their homework, including speaking to Kamenev's coach over in Russia. A coach that just so happens to be Canadian and a coach that just so happens to have won a Stanley Cup.
"I talked to Mike Keenan, who was the coach of his team that won the Championship over there, about the player and his thought process," Poile explained. "Whether he comes over here and plays junior hockey or he stays over there and plays for Mike Keenan, I'm fine. I think his development will be good."
"We went through the whole process with him," Kealty said. "We watched him all year long, we went through the process in terms of his interest and playing in the NHL and interviewed him multiple times. We looked through all the angles to the point where we were comfortable with it. If there wasn't that factor – the Russian factor – I think he would have gone a lot higher in this draft."
Craig Button of TSN had him as the top available player when the second round started.
"When you look at centermen in this draft, he's right up there with the very best of them," Button said on the TSN broadcast. "This is a real strong pick for the Nashville Predators. With the promise and potential that he has, you can't pass him up."
That's pretty high praise. Getting a probable first rounder later in the draft is tremendous value. Of course, when a team has two picks in a round like Nashville did, it allows for some risks.
"Draft picks are currency," Kealty said. "Anytime that you have more of them closer together in certain areas it enables you to move and take different types of guys and those sorts of things. This year we had the extra picks and we felt like we managed it really well."
So what about the player himself? Forget his genetic makeup for a second. What kind of player is he?
"He's a 6'2" center that can make plays, play at both ends, big guy and can protect the puck," Kealty said. "There's so much upside. There's risk in anything that you do but we felt like, with the homework that we did, he was worth it."
Button agreed.
"He's an unbelievable centerman," he said. "He's big, he's strong, he can skate, he can play every single situation in the game. He's got a real edge to him and he's got a real competitive fire to him."
Kamenev played limited minutes against men in the KHL last season so his stats don't exactly jump off the page (one point in 16 games) but he has the potential to be a homerun pick.
"Kamenev is a big skilled forward with good natural offensive instincts. He showed to be an illegent player in our viewings. Kamenev has a good shot, including a solid one-timer. He passed up on some good opportunities to shoot the puck at times by choosing to look for the perfect play. He did show off great playmaking ability as for the most part, distributing the puck to teammates very well." – HockeyProspect.com
Despite his Russian heritage and all the anxiety that surrounds that in today's hockey landscape, Poile believes Kamenev has a promising future with the organization.
"I know he's a real good player so I'm certainly looking forward to having him play for us," he said. "I'd be disappointed if that didn't happen one day because I know he has the talent to play for us."
About Jeremy K. Gover
Jeremy grew up in the Bay Area cheering for the Sharks since their inception. He moved to Nashville in September of 2005 and became a season ticket holder a day later. Thankfully, he no longer bleeds teal. You can e-mail Jeremy at [email protected]
Upcoming Schedule
Florida at Nashville

September 26, 2022 at 3:00 pm – 6:00 pm

Florida at Nashville

September 26, 2022 at 7:00 pm – 10:00 pm

Nashville at Tampa Bay

September 29, 2022 at 6:00 pm – 9:00 pm

Tampa Bay at Nashville

September 30, 2022 at 5:00 pm – 8:00 pm

San Jose at Nashville

October 7, 2022 at 1:00 pm – 4:00 pm

Nashville at San Jose

October 8, 2022 at 1:00 pm – 4:00 pm

Dallas at Nashville

October 13, 2022 at 7:30 pm – 10:30 pm

ESP+

Nashville at Dallas

October 15, 2022 at 7:00 pm – 10:00 pm

BSSW

Los Angeles at Nashville

October 18, 2022 at 8:30 pm – 11:30 pm

ESP+, ESPN

Nashville at Columbus

October 20, 2022 at 6:00 pm – 9:00 pm