If Preds claim Ersberg, what's the domino effect in the system?…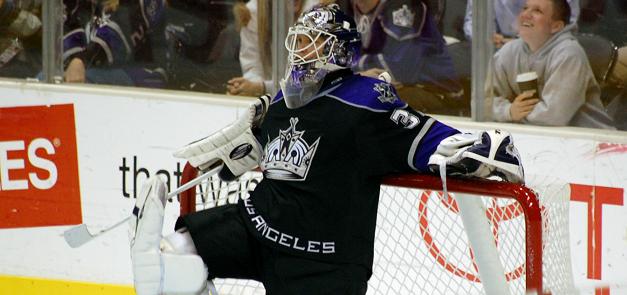 Anders Lindback was pronounced the back-up to Pekka Rinne when his main competition, Mark Dekanich, was sent to the AHL-affiliate Milwaukee Admirals last week.
Not so fast.
It was announced this morning that the Los Angeles Kings have exposed goaltender Erik Ersberg to waivers, fueling speculation by Kevin Allen of USA Today, one of the nation's best hockey writers, that he may be claimed by the Nashville Predators.
Would Ersberg be a serviceable back-up to Rinne? Absolutely. But that's not the question. The question is what happens to the other goaltenders in the system, mainly former first round pick Chet Pickard?
If the Preds brought in the 6'0″ Swede, Lindback would join Dekanich in Milwaukee. No harm, no foul there as both could split starting duties and further their development on the AHL level.
Pickard, then, would be in a quandary. Sure, the Admirals could carry three goaltenders but Pickard would see the least action of the three.
Not exactly an ideal way to develop a top prospect.
The other option would be to send Pickard to the ECHL-affiliate Cincinnati Cyclones, but then what is he really learning? Fellow Predators goaltending prospect Jeremy Smith is already there and, for the second year in a row, will try and help the Cyclones win the Kelly Cup. Putting Pickard in Cincinnati would stunt his growth and development due to the talent level in the East Coast League and, as a result of Pickard's arrival, would further hurt Smith's development. Not to mention the Cyclones are also the ECHL affiliate of the Florida Panthers so they, if necessary, would probably like to utilize that partnership to develop a goalie of their own.
The only time you want to voluntarily hurt the development of your prospects is when you can bring in what-is-thought-to-be the final piece to a Stanley Cup puzzle. And, let's be honest, Ersberg is not the final piece to a Stanley Cup puzzle.
All that being said, it wouldn't be out of the question for General Manager David Poile to trade one of the goalies out of the system if they were to pick up Ersberg. Lindback and Pickard are pieces of the future in Nashville so they're probably safe. It's Dekanich and Smith who'd be shopped around.
Dekanich was given a one-year, two-way contract this past summer to see if he could do what was necessary to compete for the back-up job in Nashville. After Lindback won the battle, I'm sure Dekanich would appreciate an opportunity to get his NHL career started this season, even if it is elsewhere. The one-year contract indicates the Predators are not committed to him long term, as they shouldn't be. With Lindback, Pickard, Smith and Atte Engren in the system, Dekanich is more than expendable and trading him might be the best option (both short-term and long-term) to unclog the logjam on the depth chart.
As far as Smith goes, he's a former second round pick, a Kelly Cup Champion and a co-Kelly Cup MVP. He needs another season or two in the minors before he can be considered NHL-ready, but teams with older starters like the Dallas Stars and New Jersey Devils could use a goaltender developing in the system who's waiting in the wings. Given his resume – and limited legit opportunities against top talent – he may be attractive to a team who can afford to take a flier on a promising, young goalie.
We won't know if Ersberg was claimed by Nashville – or another team ahead of them in the waiver order – until Tuesday at 11:00am Central. If the Preds have claimed him, expect another domino to fall shortly thereafter.
UPDATE (10/5): Ersberg was not only passed on by Nashville, but was passed on by every team. He cleared waivers this morning and is being sent to the Manchester Monarchs of the American Hockey League.