Breaking down today's trade with Vancouver…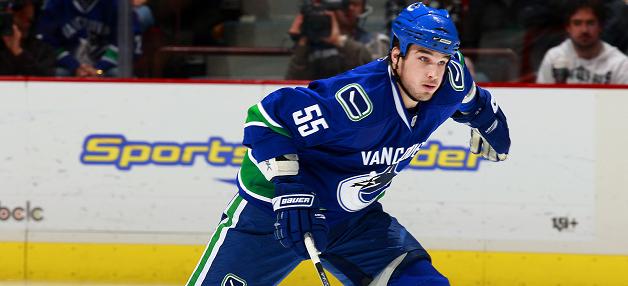 As the fans at The Wildhorse Saloon ate their lunch and waited for the players and coaches to emerge from the stage, Twitter blew up with some news.
The Nashville Predators had traded summer acquisitions winger Jonas Andersson and defenseman Ryan Parent to the Vancouver Canucks for defenseman Shane O'Brien and Dan Gendur.
Let's make one thing perfectly clear, Gendur has played at the ECHL level for the past two seasons so don't concern yourself with him. Let's talk about the players who do matter: Parent, Andersson and O'Brien.
First off, O'Brien is a penalty minute machine. At 6'3″, 224 pounds, he's a big guy who plays with an edge, something the Predators needed on their blueline not named Shea Weber. The problem is, that edge he plays with tends to be a bit reckless. He's known for taking stupid penalties and, while his penalty minutes took a severe dip last season, he can basically be counted on for at least one minor penalty a game.
"Shane gives us an element of bite on the blueline," Head Coach Barry Trotz said. "The fit was really good and it was something we were looking for, even through the summer. So it's a good move for us and it's also gives us flexibility for our roster as well."
This trade, it has to be said, is one of the more curious ones General Manager David Poile has pulled off. Even bringing in Brendan Witt at the 2006 trade deadline in exchange for a first round pick and a prospect was less curious than this one.
Andersson was signed on July 1 to a one-way contract, basically signifying Poile's confidence that he'd make the NHL roster and should bring scoring depth at the wing position. Roughly a week before that, Parent was acquired when Poile sent Dan Hamhuis' negotiating rights to the Philadelphia Flyers. The consensus was that Parent looked good his pre-season audition and that while Andersson was average in pre-season games, he shined during training camp scrimmages and half-ice drills.
"They were really good players for us. Unfortunately, sometimes you have to make deals and hard decisions that make sense for (your hockey club)," Trotz said. "Maybe it doesn't make sense for Saturday, but it makes sense for maybe May and June."
The blogsite Preds Odd Man Rush brings up an interesting point as well. With O'Brien in the mix, doesn't it further diminish Wade Belak's role? With the post-lockout NHL, teams rarely need goons on the ice policing things. As a matter of fact, tough guys don't typically make the nightly lineup unless their opponent's tough guy is in their lineup. Belak serves that purpose. But with O'Brien, the Predators don't need Belak as they already have someone in the lineup who can fill that role and play a regular shift.
An argument could be made that they already had that in Jordin Tootoo as well but we'll leave that alone for the purpose of this example.
Buddy Oakes of Preds On The Glass is on the other side of the fence, actually in support of the trade. He brings up that the financial impact is basically a wash (O'Brien's contract is $1.65 million while the combination of Parent and Andersson's deals were $1.525). For what Nashville is getting in O'Brien, it could be considered a wash too as Parent was acquired for nothing in the first place and Andersson may have been a bad decision, thus the Preds cut their losses.
Still though, considering the circumstances, this is a really odd move.
Could a second deal be on the horizon?
"We'll take anything that comes our way and evaluate it," Trotz said. "If it's not going to help our hockey club, I don't think anything's going to happen."
So Predators fans can expect to see O'Brien's name in the box score quite often this season. Maybe not on the score sheet, but in the box score. But, then, again, he did tally 21 points for the Tampa Bay Lightning in 2006-07 so maybe he can chip in every once in a while.
But, if not, there's always THIS to look forward to.
Fun fact: O'Brien gives the Predators four blueliners who were drafted in 2003. Of course, it also gives them one who was drafted after the second round.