In ultra-competitive West, Preds are last to allow 100 goals…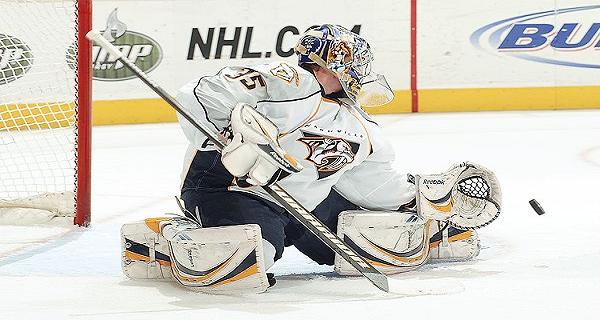 Remember that one time the Preds were giving up goals left, right and sideways?
If, back in early November, we told you that on January 12 the Nashville Predators would be the only team left in the Western Conference who had allowed less than 100 goals, you would've laughed at us, unfollowed us on Twitter and even de-friended us on Facebook.
But that's exactly what they are: the best defensive team in the West.
Through 42 games, Preds opponents have put just 98 pucks past Pekka Rinne, Anders Lindback and Mark Dekanich. Matter of fact, only the Boston Bruins have allowed fewer (93). By contrast, the Central Division-leading Detroit Red Wings have seen 123 pucks hit the twine behind their goalies.
So, basically, if the Predators can keep this whole "goal scoring" thing up…
From October 24 to November 16, the Nashville Predators went 3-6-0 and were outscored 34-25. In that nine game stretch, they had given up five goals three times (all losses) and four goals twice (also losses). It seemed like they couldn't defend their way out of a paper bag. And, at times, they couldn't score, to boot.
The frustration culminated up in Toronto on November 16. The Preds jumped out to a 3-0 lead on the Maple Leafs just 11 minutes in. They even came out out firing in the second period and found themselves with a 4-1 lead. Then it all fell apart. The lowly Leafs hadn't won a game in 20 days at that point and they found themselves down by three goals. But have no fear Toronto! The Predators were here!
I don't need to tell you this but Nashville ended up embarrassing themselves by losing the game 5-4.
Since that embarrassing night in Toronto, however, Nashville shored up their defensive responsibilities, has gotten incredible goaltending and even found their scoring touch. They've allowed just 50 goals which, if you're crunching numbers at home, breaks down to just 1.92 goals per game. Now, compare that to the 3.78 goals per game they were allowing between October 24 to November 16. It's pretty clear that the game in Ontario was a turning point.
A "defining moment," if you will.
Rinne, for one, has been outstanding. Both of his shutouts have come since the Toronto game, he's allowed two goals or less in 13 of the 16 games and, better yet, he's posted an immaculate .946 save percentage since.
Lindback, likewise, has been incredible when called upon. Especially for a guy who had never played hockey in North America before this season. Both of his shutouts have come since the Toronto game as well and he's 7-2-1 with a .925 save percentage post-Leafs.
Nashville is currently on a six game win streak and, while they can't win forever, the future looks bright. They are 10-4-5 inside the friendly confines of Bridgestone Arena this season and, starting February 1, 21 of their final 32 games are in Music City. Furthermore, the Preds have allowed just 40 goals in their own building for an average of just 2.1 goals per game.
The season seems to have some serious ebbs and flows for Nashville. They started the season with a three game win streak only to follow it with a three game losing streak. More recently, a five game win streak was followed by a five game losing streak. If the strong effort on defense and goaltending dominance can continue, the flows shouldn't be as long as the ebb's from this point forward and that should spell a ticket to the postseason.
Perhaps even a ticket to the second round.
—
SPECIAL THANKS to Twitter user Ryan Shannon for the tip.