PRESS RELEASE: Fifth Third becomes newest Predators sponsor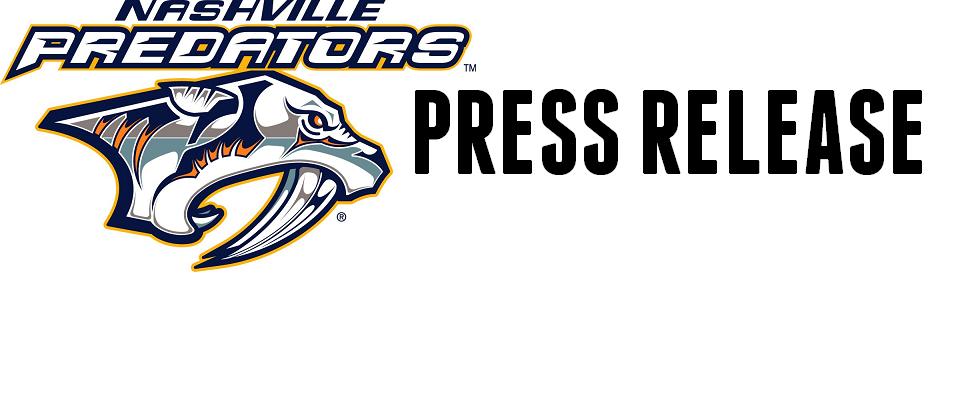 FIFTH THIRD BANK TO BECOME OFFICIAL PARTNER OF NASHVILLE PREDATORS AND BRIDGESTONE ARENA
Nashville, Tenn. (January 12, 2011) – The Nashville Predators and Bridgestone Arena have announced an integrated partnership with regional banking corporation Fifth Third Bank.
"Building upon their successful participation in our organization's recently completed credit facility, we are pleased to announce that Fifth Third has signed a letter of intent to become the Official Bank of the Nashville Predators and Bridgestone Arena effective immediately," Nashville Predators Executive Vice President/Chief Sales and Marketing Officer Chris Parker said. "This partnership will cross several platforms and consist of multiple sponsorship elements at both the team and building level. As we finalize the details, we will have more information on this exciting new partnership in the coming weeks."
"This partnership is a win for everyone involved – from the Nashville community to the organizations themselves," Fifth Third Bank President of Tennessee Don Abel said. "Bridgestone Arena and the Nashville Predators are on the rise and serve as an economic engine for downtown and the entire Nashville area and as such, this partnership was a natural fit for Fifth Third Bank's growth strategy in Tennessee. The Nashville Predators organization and owners have demonstrated a strong commitment to recruiting top talent, building a best-in-class franchise and keeping it in Nashville.  We're excited to be a part of it."
Fifth Third Bancorp is a diversified financial services company headquartered in Cincinnati, Ohio. The Company had $112 billion in assets and operated 16 affiliates with 1,311 full-service Banking Centers, including 103 Bank Mart® locations – open seven days a week inside select grocery stores – and 2,437 ATMs in Ohio, Kentucky, Indiana, Michigan, Illinois, Florida, Tennessee, West Virginia, Pennsylvania, Missouri, Georgia and North Carolina. Fifth Third serves Tennesseans with 33 full-service Banking Centers and 143 ATMs.  Fifth Third operates four main businesses: Commercial Banking, Branch Banking, Consumer Lending, and Investment Advisors. Fifth Third also has a 49 percent interest in Fifth Third Processing Solutions, LLC. Fifth Third is among the largest money managers in the Midwest and, as of September 30, 2010, had $190 billion in assets under care, of which it managed $26 billion for individuals, corporations and not-for-profit organizations. Investor information and press releases can be viewed at 53.com. Fifth Third's common stock is traded on the NASDAQ® National Global Select Market under the symbol "FITB." Member FDIC. Equal Housing Lender.
The Nashville Predators were announced as the National Hockey League's 27th team on May 4, 1998. Since then, the Nashville Predators have grown from a young expansion franchise to a regular contender in the Stanley Cup playoffs, appearing in the postseason five of the past six years. Since the 2005-06 season, they are tied for fourth-most wins and second-most home wins in the League and currently sit in fourth place in the Western Conference. The Predators are led by a pair of 2010 Olympians in captain Shea Weber (Gold Medal, Team Canada), who was recently named a 2011 NHL All-Star, and alternate captain Ryan Suter (Silver Medal, Team USA) as well as goaltender, Pekka Rinne, whose stellar numbers this season put him in the Top Five in the League in goals-against average and save percentage.
Bridgestone Arena opened in December 1996 and has been the home of the Predators since 1998. In 2010, Bridgestone Arena ranked sixth in the United States and 17th in the world for concert attendance, according to international trade publication Pollstar, and has been nominated for Pollstar's Arena of the Year Award for four consecutive years. The facility has hosted more than 13 million guests for such events as the NCAA Men's Basketball Regional Tournament, SEC and OVC Men's & Women's Basketball Tournament, as well as concerts for entertainers such as Paul McCartney, Garth Brooks, Elton John, Billy Joel, the Rolling Stones, Tim McGraw, Keith Urban and Jimmy Buffett.
To receive regular updates on upcoming events at Bridgestone Arena, go to bridgestonearena.com.  Visit nashvillepredators.com for the complete Predators game schedule