Interesting turn of events as Ekholm appears on Nashville's opening night roster…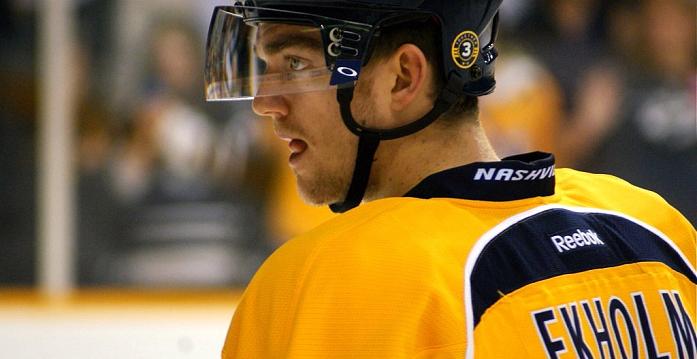 Fans thought defensive prospect Mattias Ekholm would go to the Milwaukee Admirals. His agent thought he would go back to Sweden.
The Nashville Predators, however, have him on their opening night roster.
When the Preds open the 2011-12 season against the Columbus Blue Jackets on Friday, Ekholm will be on the roster. Whether he plays or not is a different story, though.
The defensemen listed are Norris Trophy finalist Shea Weber, future All-Star Ryan Suter, still-Calder eligible Jon Blum, steady veteran Kevin Klein, free agent signee Jack Hillen and former Milwaukee Admiral Teemu Laakso. If Ekholm were to skate on opening night, the Predators would have to carry seven blueliners, something they rarely do.
That doesn't rule him out for Saturday's contest against the St. Louis Blues, however. After the Columbus game, Nashville will play it's second game of the season 24 hours later inside Scottrade Center. If there's an injury, Ekholm could debut there. If there's a poor performance by someone on the bottom pairing, Ekholm could debut there. If the coaching staff wants to rotate him out with either Laakso or Hillen, Ekholm could debut there.
It'll be interesting to see what the plans are for Ekholm. He has a clause in his contract that states he can either report to the Admirals or go back to his native Sweden if he gets sent down to the AHL. It appears as if the Predators want to keep him in North America but are afraid (have been told?) that he will go play for his Brynus club if demoted.
More will become clear this weekend.
—
PHOTO CREDIT: Sarah Fuqua // special to section303.com (used with permission)