Road Trippers cheer Preds to victory in Ohio…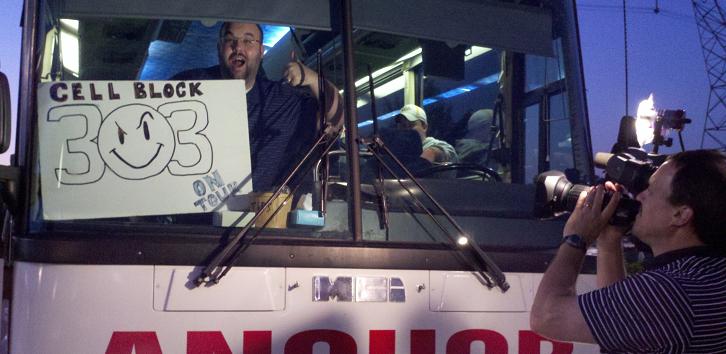 As more than a few fans said "One down… 81 to go."
In front of roughly 100 of their own fans — and 18,247 total — the Nashville Predators got their season off to a good start with a 3-2 victory over Central Division rival Columbus Blue Jackets on Friday night.
The 303 Mega Trippers were assembled in section 201 and could be heard loud and clear on the radio and TV broadcasts. Patten Fuqua of puckscene.com and Amanda DiPaolo of insidesmashville.com said they could hear the chants in the press box on the opposite side of the building.
Cheers and chants from the Predators faithful started when Ryan Suter tallied a power-play goal 5:10 into the middle frame. As Sergei Kostitsyn broke in from the point, he backhanded a pass to Suter who wristed a shot on net that got through Blue Jackets goaltender Steve Mason to make it 1-0, road team.
After Columbus tied the game, rookie forward Craig Smith scored his first career National Hockey League goal after Colin Wilson dug the puck out in front of the net. Smith corralled the loose puck and made it 2-1, Preds.
Nashville would have to wait until the third period for the deciding score, however. Matt Halischuk received a sweet backhand saucer pass from Cal O'Reilly and would tip the game winner past Mason.
The Blue Jackets would solve Pekka Rinne one more time before all was said and done but it wasn't enough as the big Finn made 32 saves to lead his team to victory.
Fans on the road trip will have a second opportunity to cheer their team to a win as the Predators take on the St. Louis Blues tomorrow night at ScottTrade Center.
Puck drops at 7:00pm Central and will be available on 102.5 The Game and FS-Tennessee.
LEFTOVER THOUGHTS:
* This summer's lone offensive forward signee Niclas Bergfors was a healthy scratch for the Predators.
* The line of Martin Erat, Nick Spaling and Sergei Kostitsyn finished a minus-2.
* Smith, Spaling and Shea Weber all had five shots to lead Nashville in the category.
* Teemu Laakso (in "full time" capacity), Jack Hillen and Smith were all playing their first game as a member of the Predators and each took a penalty.
* Suter, not Wilson, was given credit for an assist on Smith's goal. If that's not overturned, Suter will lead the Preds in scoring with two points going into tomorrow's contest.
—
PHOTO CREDIT: Jeremy K. Gover // section303.com