Jarnkrok puts to bed rumors of returning to Sweden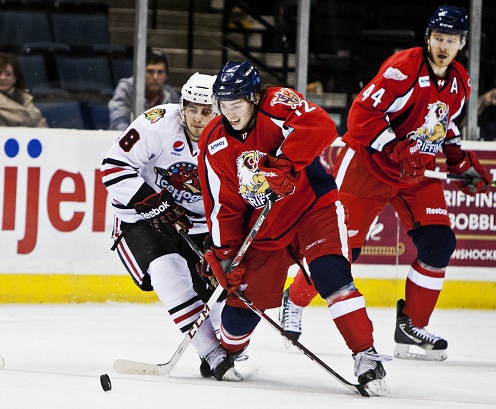 When the Nashville Predators announced that they had acquired 22-year old center Calle Jarnkrok from the Detroit Red Wings on Wednesday in the David Legwand deal, many fans were elated. Here's a player who was one of the higher-rated Swedish prospects headed into the 2010 NHL Draft class.
Then tweets like this started coming across the wire.
There must have been truth to the rumors that Jarnkrok had threatened to leave for Brynas.

— George Malik (@georgemalik) March 5, 2014
Now, George Malik is not your run-of-the-mill fan. He's the Red Wings blogger for the highly respected Kukla's Korner. As a result, this garnered some attention and the Predators fanbase started to get worried. Did Nashville give up their first ever draft pick just to swap rental players and get a conditional third round pick from Detroit? Needless to say, that wouldn't be enough.
We spoke with Jarnkrok via phone and he, without hesitation, put the rumors to bed.
"No, honestly, I'm not," Jarnkrok said when asked if he was considering a return to Sweden next year. "I don't know exactly where that came from. I was pretty shocked when I read that."
Nashville can now breathe a collective sigh of relief.
After having been burned by the promise of Alexander Radulov only to watch him bolt mid-contract to the upstart KHL back in 2008, the last thing Preds fans wanted to see was the acquisition of a talented forward take their talents overseas.
Jarnkrok has six points in his last three games but that was as a member of the Grand Rapids Griffins. Tonight, he'll play his first game as a member of the Milwaukee Admirals and he'll do so alongside fellow talented forward Filip Forsberg.
"We're going to play him with Forsberg, for sure," Milwaukee Head Coach Dean Evason said. "They're both Swedes and they know each other. And then, after that, we'll see."
"I see this as a rare opportunity for me," Jarnkrok added. "I'm very glad Nashville acquired me and I'm looking forward to the game tonight."
There was some speculation that Jarnkrok was unhappy in the Detroit organization when, after a slow start to his first pro season in North America, he was passed on the organizational depth chart by former Notre Dame standout Riley Sheahan and 2007 third rounder Joakim Andersson.
In the 2014 edition of The Hockey News' Future Watch, they have Jarnkrok as the third highest-ranked prospect in Detroit's system, behind only 2013 first rounder Anthony Mantha and "The Magician" himself Tomas Jurco.
"We think Calle is a quality player," Evason told Admirals Roundtable. "He hurt us last game when he had a goal and two assists so we're looking forward to having him in our lineup."
He's coming to an organization that knows it Swedes. Ads forward Patrick Cehlin and Preds defenseman Mattias Ekholm are former teammates of Jarnkrok's and he says that makes the transition easier.
"It's good that I know them from earlier," he said. "They're really good players. I know almost all of the Swedes in the organization, actually. I've played with [Patric] Hornqvist and [Viktor] Stalberg as well so this is great."
General Manager David Poile doesn't expect Jarnkrok to make his NHL debut this year but says his future is bright with his new club.
"We really wanted to get him in his draft year but weren't in a place to do that," Poile said. "We think that, other than needing to get a little bit bigger and stronger, he's really close to playing in the National Hockey League. This kid's got terrific hockey sense, he's got great great hands, he's a really good skater and he's a really good competitor."
Jarnkrok will wear number 19 for Milwaukee.
—
PHOTO CREDIT: Andrew Kuhn // MLive.com (permission pending)