2013 third rounder Jonathan Diaby joins Admirals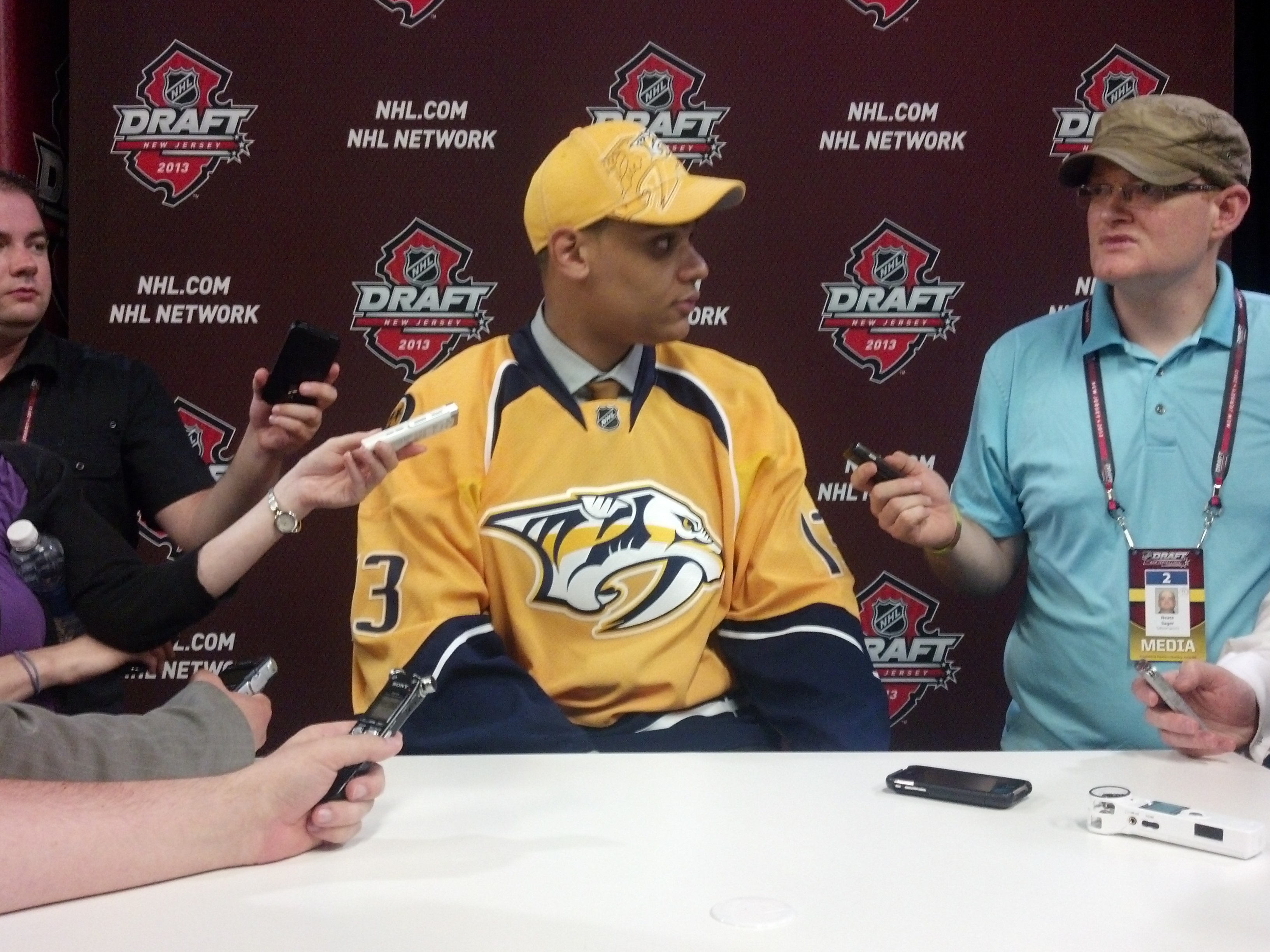 The Nashville Predators' second choice in the 2013 NHL Draft, Jonathan Diaby, has joined the Milwaukee Admirals. His junior career came to an end when his Victoriaville Tigres lost their opening round QMJHL series against the Drummondville Voltigeurs on March 28.
At 6'4″ and 225 pounds, Diaby is a moose at just 19 years of age. When he fills out his large frame — along with Shea Weber and Seth Jones — he'll be just another monster guarding the Nashville blueline.
The Blainville, Quebec native missed nearly half the season recovering from shoulder surgery yet still managed to post career-best numbers. Despite playing just 38 games, he was second among Victoriaville defensemen in scoring with 28 points and his five points in five playoff games were second on his team among all skaters.
Before the draft last summer, McKeen's Hockey scouted Diaby as "a tough, conscientious defender with imposing size and range" and said that he "thinks defense first." If he's as strong in his own end as they say he is and can put up decent offensive numbers like he has in junior, the Admirals may have just added a nice two-way asset for their stretch run.
In addition, Milwaukee has also signed two college players, 22-year old Cornell University defenseman Kirill Gotovets and 23-year old UMass-Lowell forward Joe Pendenza. Both were signed to ATO's (amateur tryout agreements).
Pendenza led the River Hawks in goals (14) and points (30).
The official press release is below.
---
Milwaukee, WI—The Nashville Predators announced today that they have assigned defenseman Jonathon Diaby to the Milwaukee Admirals. In addition, the Admirals have signed forward Joe Pendenza and defenseman Kirill Gotovets to amateur try-out contracts (ATOs).
Diaby recently completed his junior season with the Victoriaville Tigres of the QMJHL where he totaled nine goals and 19 assists for 28 points in 38 games to go along with 80 penalty minutes and a +10 rating. The Blainville, QE native finished his four-year junior career with 63 points (14g-49a) and 280 PIMs in 175 games. A season ago, he paced the Tigres in plus/minus rating (+12) and penalty minutes (117), and was one of just three QMJHL defensemen to finish the 2012-13 season with 25 points, 100 penalty minutes, and a +10 rating.
Diaby, who signed an entry-level deal with the Predators earlier this year, was the 37th-rated North American skater in Central Scouting's final rankings of 2013.
A native of Minsk, Belarus, Gotovets played the past four seasons at Cornell University. He finished his senior year with a goal, three assists and 20 penalty minutes while skating in all 32 of his team's games. Over his career at Cornell, Gotovets played in 112 contests and racked up 19 points (3g-16a) and 96 penalty minutes.. He was originally drafted by the Tampa Bay Lightning with the 183rd pick of the 2009 NHL Entry Draft and had his rights traded to the Chicago Blackhawks on April 3rd, 2013.
Pendenza just completed his senior season at the University of Massachusetts-Lowell, where he led the team in goals (1614 assists (16), and points (30), while helping them qualify for the NCAA tournament and make it within a game of the Frozen Four. Pendenza, who attended the Predators development camp last summer, had a team leading 23 assists and tied for a team-best 38 points during his junior campaign. In four seasons with the River Hawks, the Wilmington, MA native recorded 49 goals and a 61 assists for 11 points in 152 games played.
---
PHOTO CREDIT: Jeremy K. Gover // section303.com