Join the 303 Road Trip on 12/6!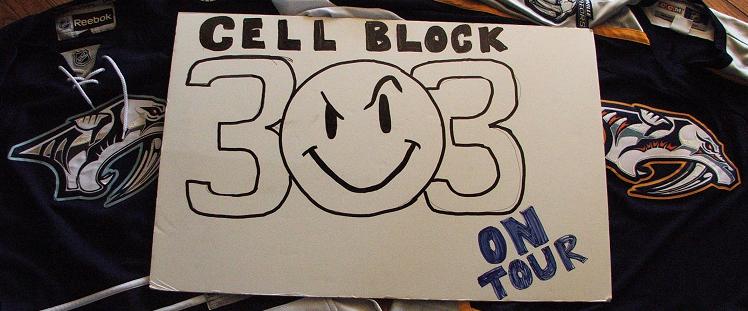 On Monday, December 6, the Predators are taking on the Atlanta Thrashers in Philips Arena and you can be there.
Cellblock 303 has procured the use of a bus through Anchor Trailways (driven by a licensed professional) and has acquired 3 rows of tickets in Section 204, which is the Predators' attack twice zone, which means the lucky ones who attend the game will be sitting directly behind the Thrashers goal and reminding them of their ability to inhale.
The bus will leave out of Nashville on Monday around lunchtime (departure location is TBD, but most likely in the Lenox Village area) and arrive at CNN Center a couple of hours before the game. We will return after the game, rolling into Nashville at around 1 am, leaving you with plenty of time to get some advance sleep on the bus so that you can go to work or school bright-eyed and bushy-tailed on Tuesday morning.
The total cost for the trip, which consists of 1 seat on the bus and 1 ticket in section 204 will be $56.
We will also have prize giveaways during the bus ride, including a ride on the Zamboni during the second period.
Last year, the Thrashers sent several busloads of fans to Nashville during the "Snowpocalypse". Let's return the favor.
Here's how to go:
Send Patten an e-mail at

[email protected]

with your name, the number of people in your party and a cellphone number where you can be reached on game day.
Once you have verification from Patten (this is very important – space is limited): Pay $56.00 per person via Paypal to 

[email protected]

or arrange alternate payment with Patten.
Stay tuned to your e-mail for exact departure location, times and other arrangements.
In order to have a guaranteed spot on the bus, payment is due by 10/31.
We're going to take Atlanta by storm and we need YOU to be with us!