section303.com's 303:30 nominated for Best Podcast…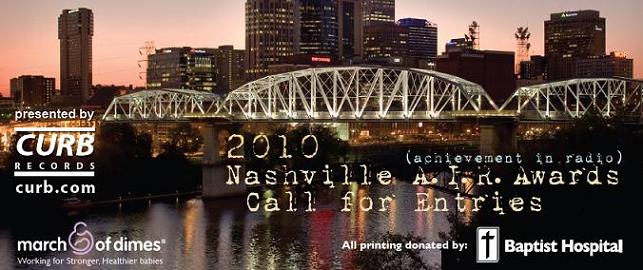 Every year the Music City chapter of the March of Dimes holds the A.I.R. Awards (Achievement in Radio) to honor the best broadcasters in the Nashville market. This year, however, they added a new category: Best Locally Produced Podcast.
We are proud to announce that section303.com's The 303:30 has been named a finalist in the Best Podcast's maiden voyage.
section303.com's Jeremy K. Gover and Codey Holland co-host the half hour (give or take a few minutes) weekly podcast and they've welcomed some stellar guests. Just to name a few, legendary broadcasters JP Dellacamera and Ken Kal, Nashville Predators prospects Taylor Beck and Nick Spaling, journalists Kevin Allen of USA Today and Adam Proteau of The Hockey News, singer/songwriter John Ondrasik of Five for Fighting and comedian and author Mike Birbiglia have all joined the guys to talk about hockey, sports and, when all else fails, life in general.
section303.com was named 2nd Best Blog in the 2010 Toast of Music City Awards presented by The Tennessean and could add an A.I.R. Award to it's accolades with a win on November 22.
The A.I.R. Awards is the only awards program of its kind, acknowledging talent & achievement in radio on a local level. Furthermore, last year Philadelphia held it's last A.I.R. Awards, leaving Nashville as the only market in the country still doing the event. With podcasters now able to get in on the action, the Nashville market can hopefully help renew the success of the program.
If you want to rub elbows with some of Nashville's finest radio personalities as well as contribute to the March of Dimes (and come root us on) by attending the event, individual tickets are $50. Contact the Music City March of Dimes' Director of Marketing and Communications Todd Grantham at 615-399-0039.
The big winners of the 2009 event were WCJK (JACK-FM), Dawson McAllister Late Nights (found locally on 107.5 the River), WGFX (104.5 The Zone) and WJXA (Mix 92.9).
The 2010 A.I.R. Awards are presented by CURB Records and will be held at GSO Auditorium at Baptist Hospital, a major sponsor of the event and a supporter of the March of Dimes.
The March of Dimes is a national voluntary health agency whose mission is to improve the health of babies by preventing birth defects and infant mortality. Founded in 1938, the March of Dimes funds programs of research, community services, education and advocacy to save babies and in 2003 launched a campaign to address the increasing rate of premature birth. For more information, visit the March of Dimes' website.