Just like old times as Preds beat Jackets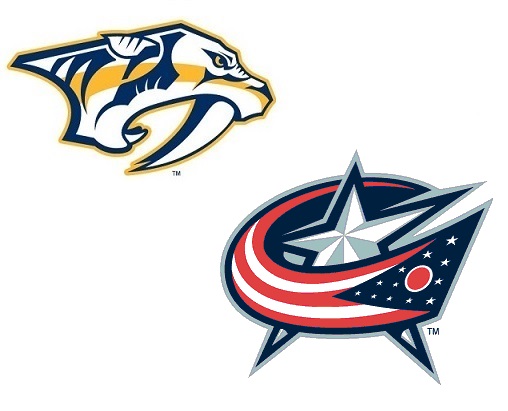 Ever since the Columbus Blue Jackets came into existence, they have been Central Division rivals with the Nashville Predators. Tonight marked the first time the two teams have squared off as anything but.
In front of 11,893 at Nationwide Arena, the Predators beat the Blue Jackets in their first inter-conference match up, 4-0.
Nashville is now 51-17-7 all-time against Columbus.
Rookie goalie Marek Mazanec turned aside all 19 Columbus shots en route to his second shutout in the last five games. The 2012 seventh round pick is now 5-3-0 in his first ever NHL season.
The Preds opened the scoring on a gorgeous pass from defenseman Ryan Ellis. The former Windsor Spitfire got the puck on the Columbus blueline but showed patience and poise in waiting for a teammate to get open down low. Matt Cullen created some space in the far face-off circle, got the cross-ice pass from Ellis and one-timed it past Sergei Bobrovsky to make it 1-0.
Shortly after the puck dropped on the middle frame, Mike Fisher appeared to use his cricket skills as he swung and connected in front of the Columbus crease to make it 2-0.
A few minutes later, David Legwand notched his team-leading 20th point of the season when he slammed home a rebound on the stick-side of Bobrovsky.
The final nail in the Columbus coffin came in the early moments of the final period when Cullen dangled around Mark Letestu and fed Nick Spaling in the circle. The former Kitchener Ranger pulled it back and fired a laser up and over Bobrovsky's shoulder to round out the scoring at 4-0.
Nashville has now won five of their last six games and Mazanec has been in net for all of them. They'll try to make it six of their last seven when they take on the Edmonton Oilers on Thanksgiving night at Bridgesone Arena.
Puck drops at 7:00pm Central.
***
THE THREE STARS OF THE GAME:
1. Matt Cullen (NSH)
2. Nick Spaling (NSH)
3. Marek Mazanec (NSH)