Oilers get best of Preds on Thanksgiving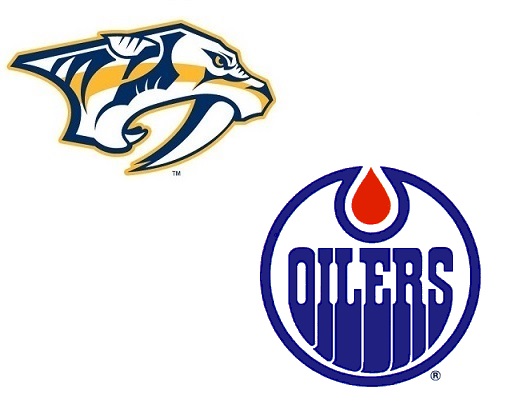 Thanksgiving didn't exactly go how the Nashville Predators wanted it to go.
In front of 16,279 tryptophan-induced witnesses inside Bridgestone Arena, the Edmonton Oilers beat the Preds, 3-0.
Rookie goaltender Marek Mazanec started his ninth game in a row — and second in as many nights — and kept his team in the contest. In the end, he turned aside 25 of the 27 shots he faced and fell to 5-4-0 on the season.
"He's been outstanding," Predators forward Matt Hendricks said about the young goalie. "He's one of the main reasons we're putting points in the column right now. He's playing with ice in his veins."
Neither team found the back of the net in the opening period but, in the second, the visitors used their skill to capitalize with extra ice. While skating four-on-four, Ryan Nugent-Hopkins took advantage of a turnover in Nashville's defensive zone. Defenseman Jeff Petry collected the puck along the boards and fired a centering pass to Nugent-Hopkins who then re-directed it into the net. The goal broke Mazanec's shutout streak at 112:32.
"They were good or we were bad," Head Coach Barry Trotz said. "Our forward lost coverage on their D and it opened up everything. I don't know if it was anything good [by them]. It was a bad read by our winger there."
Less than a minute later — and still with four skaters aside — the Predators suffered a major defensive breakdown and Edmonton cashed in once again. After a turnover in the neutral zone, the Oilers broke in two-on-one. Kevin Klein tried to direct a backchecking Ryan Ellis over to Taylor Hall while he took the puck carrier, Sam Gagner. Ellis, instead, hesitated in taking the correct man and, as a result, Hall crashed the net untouched, got the pass from Gagner and put the Oilers up 2-0.
"We fell asleep for a couple minutes and it ended up costing us a hockey game," Trotz said. "We made the one mistake and it's a one goal game. You're one shot away and then, right away, it's two. The valley looks a lot deeper in a short amount of time."
In the final minute of the contest, Jordan Eberle buried the empty netter to round out the scoring.
"I thought we put some pressure on them," Hendricks said. "It just came down to that four-on-four. They buried two goals and we weren't able to score. That's a special teams part of the game and we needed to be better there."
"We've gone through four goaltenders just like Edmonton," Trotz said. "The guys are going to bear down and they're going to play hard for the guy that's in net. We talked before the game that we needed to get in the hard areas and needed to throw some pucks at the net. He hadn't played for a while and may be a little rusty."
In his first start of the season, Bryzgalov came away with a 33-save shutout. But don't let the number of saves fool you. Most of the shots came from bad angles or from long distances.
"We weren't giving him near enough traffic," Trotz said. "We had a couple good looks but didn't hit the net. He wasn't that busy. But, when we had good looks, we didn't make him make a save."
The Predators will attempt to rebound against Bryzgalov's former team, the Philadelphia Flyers, on Saturday. And they may have to do it without captain Shea Weber who took a puck to the face late in the second period. He left the game, did not return and is listed as day-to-day with an upper-body injury.
Puck drops at 7:00pm Central.
***
MY THREE STARS (as voted on with 5:20 remaining in regulation):
1. Taylor Hall (EDM)
2. Ilya Bryzgalov (EDM)
3. Ryan Nugent-Hopkins (EDM)
THE THREE STARS OF THE GAME:
1. Ilya Bryzgalov (EDM)
2. Ryan Nugent-Hopkins (EDM)
3. Jordan Eberle (EDM)