Late flurry not enough for Preds as Coyotes win…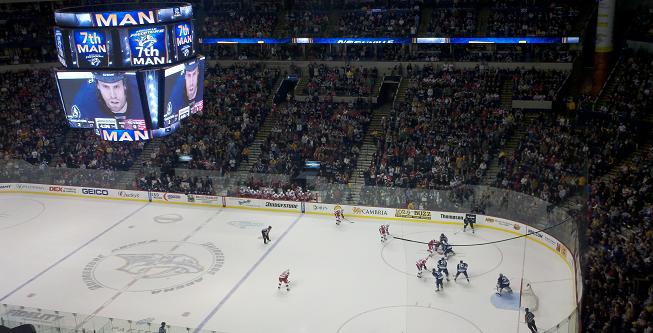 Four shots and a goal in the final 70 seconds weren't enough.
In front of 17,113 at Bridgestone Arena, the Nashville Predators couldn't use the late surge to beat the Phoenix Coyotes and lost 3-2. The Predators got goals from Sergei Kostitsyn and Shea Weber in the defeat.
Pekka Rinne, who didn't look like his Vezina-caliber self, made 23 stops in the loss.
The Pacific Division leading Coyotes have now won seven in row while the Preds dropped their first game in regulation since February 7.
Nashville currently sits in fifth in the Western Conference.
Phoenix got things going when they scored two goals in 58 seconds. First, defenseman Keith Yandle wristed a shot out from the point that saw it's way through traffic and eventually through Rinne and then Taylor Pyatt drove to the net and roofed a gorgeous wrist shot up and over Rinne's short side.
Just moments later, however, Nashville answered. They got a power play after Coyotes captain Shane Doan cleared the puck over the glass and, on the ensuing man advantage, Kostitsyn found a Mike Fisher rebound on his stick and wristed it up and over Ilya Bryzgalov from his knees.
Early in the third period, Phoenix was inches from going ahead 3-1 when Predators defenseman Shane O'Brien pulled a puck that had trickled behind Rinne off the goal line to keep the deficit at one.
Lauri Korpikoski made it 3-1 when when he carried in over the blueline, wound-up and rifled a shot past Rinne while it was 4-on-4.
Nashville thought they'd cut the Phoenix lead to one when Kostitsyn dished off a beautiful pass to a breaking Fisher. Fisher one-timed it past Bryzgalov but, unfortunately, O'Brien was also breaking to the net and cross-checked Derek Morris' head on the way. O'Brien went to the box and the goal was disallowed.
"I have no problem with the referees," O'Brien said. "(He acted like I) took his whole top row (of teeth) out. I was just going to the net. It was accidental. The officials have a job to do. If he sees my stick in his face, then he's got to call a penalty. But this is a man's game."
In the final minute of action, with Rinne pulled for an extra attacker, Weber blasted a shot that hit the twine cutting the Phoenix lead to one with 50 seconds remaining. Despite a puck that hit the outside of the net as the final horn sounded, the Predators couldn't tie the game to force overtime.
Nashville travels to Columbus, Ohio for their tilt against the Blue Jackets on Tuesday.
Puck drops at 6:00pm Central and the game can be seen locally on Fox Sports Tennessee.
LEFTOVER THOUGHTS:
* Edmonton Oilers great and Finnish hockey legend Jari Kurri was in attendance tonight. He is currently the General Manager for the Finnish National Team.
* Jukka Jalonen, the Head Coach of Team Finland, joined Kurri in the press box.
* Preds enforcer Wade Belak served as color commentator for the radio broadcast since Terry Crisp was rekindling his bench boss days at the Heritage Classic Alumni Game in Calgary.
* Ryan Suter left the game after a dirty hit by Doan. He did not return.
* Tonight's game was the 10th sell-out of the season for Nashville.
* Martin Erat has 15 points in his last 16 games.
* Erat was the only Predators with a plus-rating tonight (plus-1).
* Fisher has three points his four game wearing a Preds sweater.
* Bryzgalov turned aside 30 Nashville shots in the win.
* The Preds are now 10-17-2 when their opponent scores first.
* When scoring less than three goals in a game, Nashville is now 3-15-7 on the season.
* Preds prospect Roman Josi collected an assist in the Admirals 3-0 victory over the Peoria Rivermen tonight. He now has a 12-game point streak.
* It was Jordin Tootoo's first game since voluntarily entering the NHL's substance abuse program in late December. He finished with one shot, a minus-1 rating and a shade over 10 minutes of ice time. He recieved a loud ovation on his first shift.
MY THREE STARS (as voted on with 7:22 left in regulation):
1) Ilya Bryzgalov (PHX)
2) Sergei Kostitsyn (NSH)
3) Shane Doan (PHX)
THE THREE STARS OF THE GAME:
1) Taylor Pyatt (PHX)
2) Keith Yandle (PHX)
3) Ilya Bryzgalov (PHX)
—
PHOTO CREDIT: Jeremy K. Gover // section303.com