Nashville loses Suter "at least a week" after dirty hit…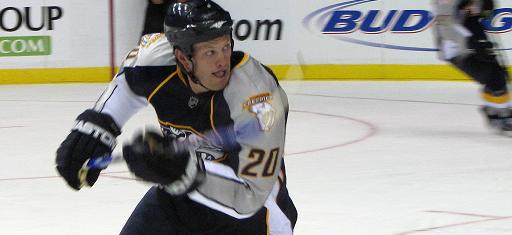 The Nashville Predators lost defenseman Ryan Suter after a dirty hit in the corner by Phoenix Coyotes captain Shane Doan.
104.5 the Zone's Willy Daunic is reporting that the 2010 silver medalist will miss "at least a week" of action due to the hit. Daunic also mentioned that Suter will be re-evaluated on Monday.
Suter was involved in a scrum along the boards at the tail end of the second period when, all of a sudden, he was steam rolled by Doan. Because there was no penalty called on the hit, Suter let the referee have it on the way back to the bench. Matter of fact, he let him have it so much that it prompted the on-ice official to give him a minor for unsportsmanlike conduct.

But, when the final frame started, Suter was nowhere to be found. JP Dumont was sitting in the penalty box in his place and questions started to fly. Finally, just after the penalty expired, the media was told that Suter had "an upper-body injury" and would not return.
"I had an issue on the hit with Suter," Head Coach Barry Trotz said. "I think we're trying to get those hits out of the game. The puck's in the corner and he's battling with one guy, he turns and the puck's four or five feet from him. There was no play on the puck, it was a straight play on Suter."
More than whether or not it was a penalty, the main question is what do the Predators do if Suter – or any other defenseman – misses time? With Francis Bouillon still out with a concussion, how does Nashville fill Suter's spot, if necessary? Prospect Roman Josi has a 12-game point streak with the AHL-affiliate Milwaukee Admirals; does that earn him a call up? Jonathon Blum has long been touted as the next Predators defenseman; does he get the call up? Aaron Johnson was signed in the off-season for his NHL experience and almost made the big club out of training camp; do they call him up? Or is this evidence enough that General Manager David Poile needs to put in a waiver claim for Sheldon Souray?
(Just so we're clear, the Predators can't use 2009 first round pick Ryan Ellis's services until after the Windsor Spitfries season has concluded which, if they don't make the playoffs, would be March 20.)
So what's the answer to all the injuries? At least with the forwards it seems like every time someone goes down, someone else is ready to come back. But what about the blueline? The trade deadline isn't until February 28 so do they trade for depth? Do they make a waiver claim? Do they call up one of the prospects?
Guess we'll find out before Tuesday.
MILWAUKEE ADMRIALS SCORING AMONG DEFENSEMEN
Jon Blum – 33 points in 53 games (KEY STAT: second most PPG on MKE)
Roman Josi – 27 points in 47 games (KEY STAT: most shots but worst plus/minus rating on MKE)
Aaron Johnson – 21 points in 51 games (KEY STAT: 225 NHL games worth of experience)
Teemu Laakso – 20 points in 49 games (KEY STAT: tied for highest plus/minus rating on MKE)
Brett Palin – 12 points in 54 games
Grant Lewis – 9 points in 23 games
—
PHOTO CREDIT: Paul Nicholson // special to section303.com