Lindback, Preds can't outlast Caps; fall in OT…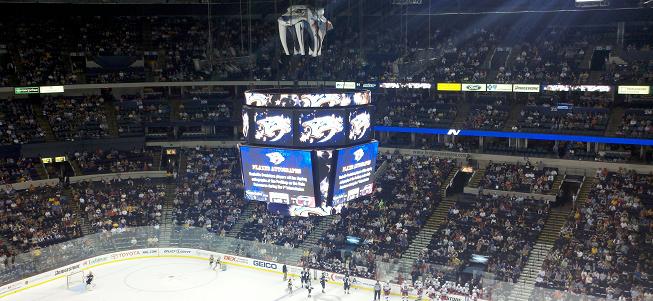 The Washington Capitals came into tonight's game 3-1-0. The Nashville Predators came in 3-0-0.
Somebody was going home without that fourth win.
Luckily for Nashville, that loss came while still getting a point in the standings.
In front of 16,144 at Bridgestone Arena, Alexander Ovechkin and the Caps pulled out an impressive come-from-behind 3-2 victory.
Nashville took a 2-0 lead into the locker room after period two, the powerful and talented Capitals onslaught in the third frame was just too much to overcome.
That was in no fault to rookie goaltender Anders Lindback, however. The 6'6″ Swede played mightily but a tired Preds team who was in it's third game in four nights couldn't muster up enough energy to last the entire 60+ minutes witht he likes of the Caps.
"Of course I'm disappointed in the way the game turned out," Lindback said. "They're a really good team and they struggled but got back in the game in the third period. We had bad luck with the penalties too but that's how the game is played.
"I don't know what to say. It's feels hard right now."
Lindback, who's been thrust into the starting role thanks to an injured Pekka Rinne, turned aside 31 of 34 shots, many of which were not routine, but took his first career loss.
"I think I did okay," Lindback said. "I still want to get better at those things, I mean, one more save and I think we have the game."
Head Coach Barry Trotz agreed.
"I thought he played pretty well," Trotz said. "If you talk to Anders, he'd probably want that first goal back but he had a couple guys baring down on him named Ovechkin and Semin. Those guys don't miss very often. He wasn't the reason we didn't get two points, that's for sure."
Speaking of two points, there was a silver lining to this loss. The Preds did manage to secure one point in the standings thanks to their appearance in overtime and, in the tough Western Conference, come April, every point is going to count.
Also, like his team, Lindback remains undefeated in regulation.
The Preds had an ultra-impressive first period. They peppered Caps goaltender Michal Neuvrith with 18 shots in the opening stanza, half of which came with the man advantage. If shots off the posts counted, Nashville would've had 19 as Patric Hornqvist rang one off the cross bar.
The second period was equally impressive by Nashville. Lindback got more work and was the difference maker on several occasions. Washington forwards David Steckel and Matt Hendricks, exploiting a Nashville line change, broke in on a partial 2-on-0 but Lindback was equal to the task.
The Capitals finally broke through 4:33 into the final regulation stanza when Alexander Semin buried a power play tally to bring the Caps within one. Eight minutes later, Tomas Fleischmann put one past Lindback to knot the game at two.
In the overtime session, Predators defenseman Ryan Suter was called for tripping. Ovechkin carried into the Nashville zone and cut east-west and Suter, trying to stick with him, eventually lunged and brought him down. An argument could be made that, because it was overtime, that call typically doesn't get made. But, because it was one of the faces of the NHL, the officials are more likely to call it. Not to mention the Capitals had taken six penalties — including the first five of the game — and the Preds had only taken four.
So, while Suter sat in the box, Ovechkin fired a shot on net that was tiped in front by Brooks Laich for the game winner. A heart breaking loss in a game they easily could've won had one or two more bounces gone their way.
The Predators will try to rebound on Tuesday night against the struggling Calgary Flames. Puck drops at 7:00pm Central at Bridgestone Arena.
LEFTOVER THOUGHTS:
* He may have been a minus-2, but Capitals defenseman Brian Fahey will always remember tonight's game as he made his NHL debut.
* Preds forward Marcel Goc left the game with just over 2:30 left in the second period after Nicklas Backstrom boarded him in the corner. Goc skated to the bench hunched over and appeared to be clutching his wrist.
* Both Hornqvist and Shea Weber hit posts on shots that clearly beat Neuvirth. Trotz told the press that, if the Preds had gotten a third goal before the Caps get on the board, he felt they would've won.
* Trotz mentioned in this post-game press conference that they were close to playing Rinne tonight. Expect him to start Tuesday night.
* Fun fact: Backstrom and Lindback were born seven months apart in the same city, Gavle, Sweden.
* Fun fact #2: They were also teammates on Brynas IF Gavle from 2005-07 .
* Caps center Boyd Gordon was perfect in the face-off dot during the first period, winning all four draws.