Preds lose Suter early, then lose to Flames in OT…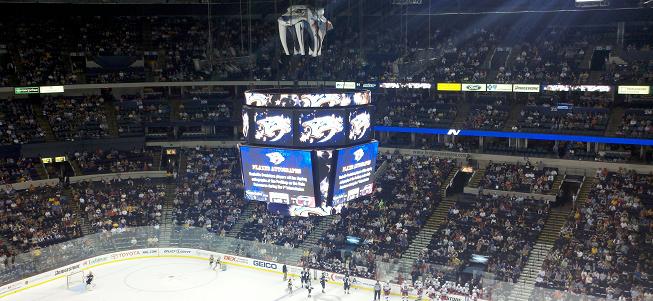 Note to self: If the Predators go to overtime, they're going to lose.
The Calgary Flames came into Bridgestone Arena and, in front of a reported 15,684, came out with a victory. For the second game in a row, the Nashville Predators lost a key player and then lost in overtime.
The Flames posted a 1-0 victory over Nashville but the Preds did get a point in the standings and remain undefeated in regulation this season.
I guess that's something.
In the first period, the Preds lost a second key player in as many games. Like Marcel Goc on Saturday, they lost defenseman Ryan Suter early tonight. Suter went down on what seemed like an innocent play. Flames defenseman Corey Sarich put a hit on Suter right next to the Nashville bench and, once down, Suter had to be picked up by his teammates on the bench. He immediately went to the dressing room. He did not return.
Despite losing a key cog on the blueline just minutes into the contest, the Preds played well in the opening stanza and ended up firing 12 shots at Miikka Kiprusoff, including a 13th that trickled through his legs but went just wide. Calgary equalled the Preds' output with 12 shots of their own against Rinne and he, like his counterpart at the other end of the ice, was up to the task.
In the second, there was still no scoring and little to no chemistry between Nashville linemates. While the Preds did get 12 shots in the second period, there was little to no flow. Of course, having to rotate five defenseman will do that.
In the third period, both teams were in a snooze fest. Not much happened for either side offensively until Flames winger Curtis Glencross was sent to the box with 5:48 remaining for running into Pekka Rinne. Nashville applied good pressure in the first minute of the man advantage but couldn't find a way through Kiprusoff.
In his first game since being called up to replace Goc, Nick Spaling had a glorious scoring chance as the final seconds ticked off the regulation clock. The puck sailed just wide, however and it was apparent this game was going to need a fourth session.
LEFTOVER THOUGHTS:
* Nashville blueliner Francis Bouillon, who had three shots total coming into tonight, had four in the first period alone.
* During an in-game advertisement/promotion, back-up goaltender Anders Lindback was honored for his surprising 2-0-1 start. He was smiling ear to ear and acknowledged the fans by waving several times.
* Shea Weber logged an impressive 29:11 of ice time.
* Bouillon finished with almost 27:00, a huge increase over his average.
* Rinne finished with 34 saves on 35 shots and played really well in his return to action.