Lindback records first career shutout in win over Panthers…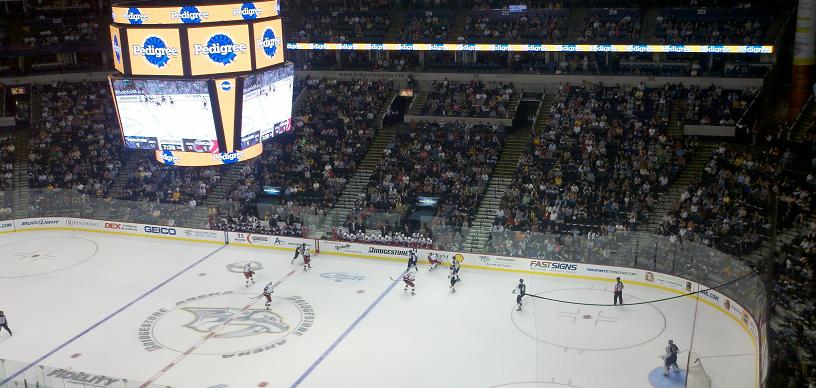 It was a homecoming (of sorts) for three former Nashville Predators. Mike Santorelli, Darcy Hordichuk and, of course, Tomas Vokoun all returned to Music City to try and defeat their former club.
But they didn't. A guy that didn't know any of them made sure of that.
The Preds shut out their former teammates (and the rest of the Florida Panthers) en route to 3-0 victory. Ryan Suter, Shea Weber and Joel Ward scored goals while Anders Lindback turned away all 22 shots he faced for his first career shutout.
"It feels good," Lindback said. "It's great to be able to help the team get another win."
Suter got things started on the right foot. Just over a minute in, Martin Erat found Suter breaking in and hit him with a cross-ice pass. He one-timed the pass under a sliding Vokoun to put the Preds up 1-0.
Weber then made it 2-0 in the final part of the first period after one-timing a pass from Suter.
The goal, from this point on, was to learn from the Atlanta and Toronto experiences. You'll recall, in both of those games, the Preds held strong early leads and ended up losing. Actually, to put it more accurately, the Preds only played the opening 20 minutes, then coasted, thinking they could get by. In both instances, they couldn't. And didn't. They lost 5-4 to Toronto and then 3-2 (in overtime) to Atlanta.
Well here was yet another inferior Eastern Conference opponent, in which they jumped out to a 2-0 lead on. The only difference? The Predators weren't on the road.
Well, that, and they played a full 60 minutes this time.
In the third period, Lindback was remarkable, stopping all 10 Panthers shots. So remarkable, he even stopped one by heading the puck down like it was a soccer ball.
"I wasn't able to catch it so it just kind of happened," Lindback said.
Lindback and the Preds will now turn their attention to the uber-struggling New York Islanders, who will be in town Monday night, looking for just their sixth win on the season.
That's right, sixth.
The puck drops at 7pm Central.
LEFTVER THOUGHTS:
* The group on the Band Stage tonight was a Beatles Cover Band called SixtyFour. I caught a show of their's at Puckett's in Franklin a while back. Great live show.
* Nashville was just 39% in the face-off dot tonight. That's a stat that must improve before the stretch run.
* At 9:27pm the Predators were in fourth place in the West. At 10:20pm they were fifth as the Phoenix Coyotes beat the Dallas Stars 5-2.
* 15 of the Preds' 26 shots were taken by defensemen.
* Weber continues to rescue his plus/minus rating from the depths. He was a plus-2 again tonight, bringing him to a minus-6 on the season. He was a minus-10 after the Atlanta game on Monday.
* Jordin Tootoo absolutely destroyed Michael Frolik with a hit you'll see for a long time. As Frolik tried to carry out of— you know what? Words can't do it justice. See for yourself…
MY THREE STARS (as voted with 5:50 left in regulation)
1) Anders Lindback (NSH)
2) Ryan Suter (NSH)
3) Shea Weber (NSH)
THE THREE STARS OF THE GAME:
1) Anders Lindback (NSH)
2) Ryan Suter (NSH)
3) Shea Weber (NSH)