Lindback records second straight shutout, Preds roll…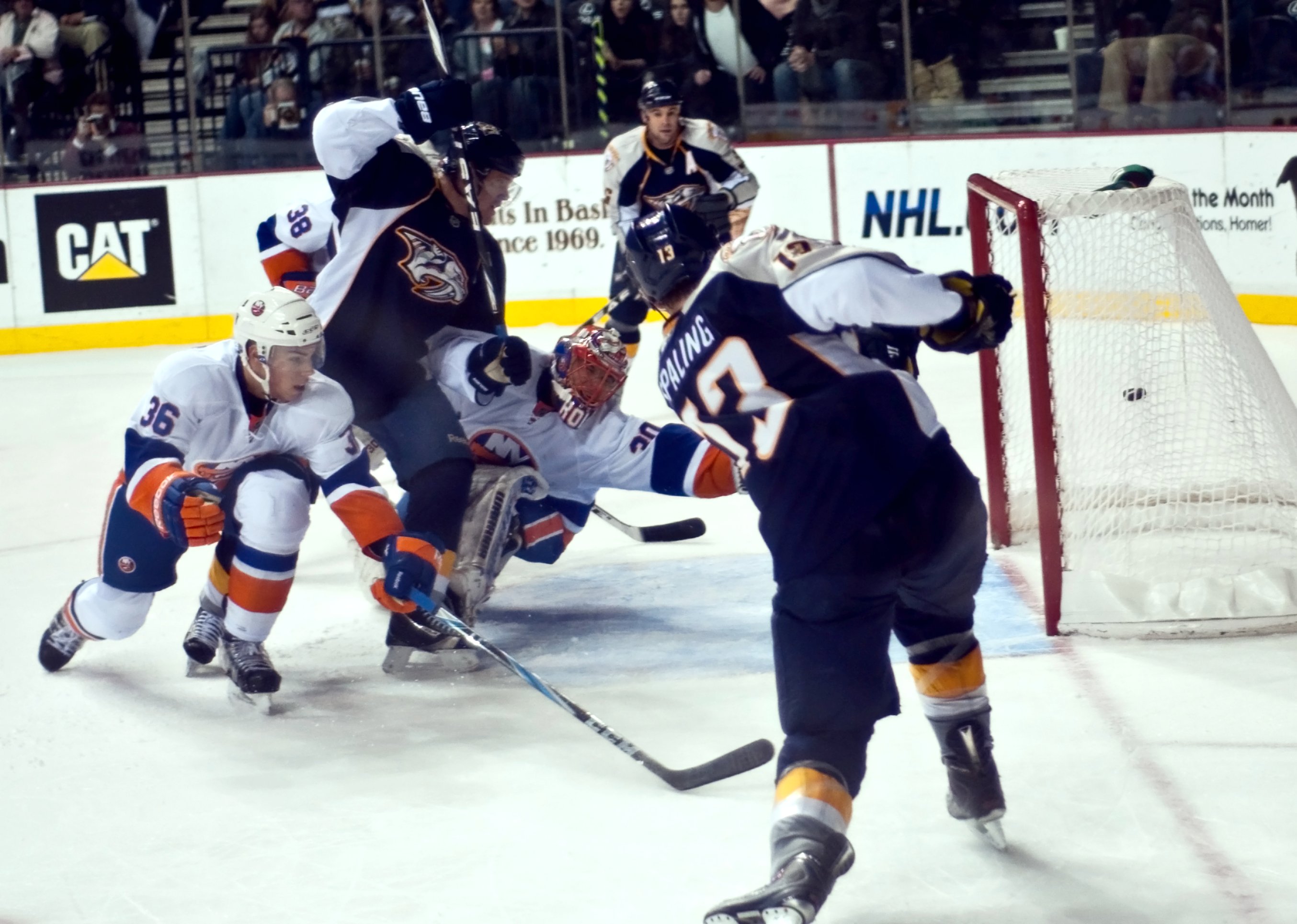 Early in the game, fans could be heard yelling "It's the Islanders!"
But, ironically, I think that was the problem. They knew it was the Islanders.
Luckily, after the initial period, the Nashville Predators woke up and started playing. Because they did, they beat the New York Islanders 5-0 in front of 14, 314 at Bridgestone Arena.
Sergei Kostitsyn, Patric Hornqvist, Jerred Smithson and Nick Spaling scored for Nashville. Hornqvist bagged two and Spaling's power play marker was the first of his NHL career.
Anders Lindback followed his 22-save performance on Saturday night with a 28-save performance tonight. The 6'6″ Swede has not allowed a goal since the waining moments of the Detroit game on December 8, good for 121:33 of shutout hockey.
Who would've thought the Predators would be this successful without Pekka Rinne in the lineup?
"Sometimes you have some misfortune and Peks getting hurt is (an example)," Head Coach Barry Trotz said. "The good fortune is you're finding out what Lindback can do."
As far as the Islanders go, they're still in search of their sixth win on the season.
That's right, sixth.
In the first period, on the power play, Cody Franson made a toe-drag move at the blueline to avoid the defenseman and fired toward the net. Kostitsyn redirected it in front to put the Preds up 1-0.
In the second period, things started to open up a little bit. First, Shane O'Brien made the assist of the year when he hurdled PA Parenteau – while still controlling the puck – and put a shot on goal. Hornqvist, as he does so well, banged home the rebound for the 2-0 lead. Then, just minutes later, Smithson put a bad angled shot on goal that found it's way through Dwayne Roloson's five hole.
Hornqvist struck again late in the final stanza but the goal was quickly over-shadowed by Weber drilling a slapshot off of Kostitsyn's left foot just seconds later. "SK74" skated slowly to the bench and wouldn't put any weight on that leg. Once on the bench, he went immediately to the dressing room.
Trotz told the media that it was "just a bruise" and he "doesn't expect him to be injured." And that's great news for Nashville.
Kostitsyn, with his two points tonight, is in the midst of a six game point streak, having tallied eight points during that stretch.
Back in the first week of the season, when Rinne went down and Lindback played well, we asked the question: does this afford Nashville the luxury of not rushing Rinne back to the lineup? If you'll recall, he was supposed to be out "2-4 weeks" with a lower body injury that occurred on December 1.
"All of January, you're playing every second night," Trotz said. "You've got lots of travel, you've got more divisional games, more conference games and having the ability to use two goaltenders that's tremendous for us."
Lindback and the Predators are about to have a wake up call, however. Not taking anything away from Lindback and his two shutouts, but the San Jose Sharks are in town Wednesday night and the Sharks are hardly the struggling Florida Panthers or the uber-struggling New York Islanders.
Puck drops at 7:00pm right here at Bridgestone Arena.
LEFTOVER THOUGHTS:
* It took the Predators just over five minutes to register a shot on goal.
* Islanders forward Rhett Rakhshani made his NHL debut tonight. The former fourth round pick logged 11:44 of ice time.
* Marcel Goc led all Preds skaters with five shots on goal.
* Franson and Hornqvist led all skaters with a plus-2 rating.
* Weber continues to rescue his plus/minus rating. He was a minus-10 after the Columbus game on December 1. He's now a minus-5 on the season.
* Kevin Klein led all skaters in ice time (24:26). Happy birthday Kevin!
* Preds clicked at just 41% in the face-off dot.
* Franson's two assists give him 12 points on the season. He needs just nine more to equal his rookie totals last year.
* Don't look now but the Preds are just five points away from the division leading Detroit Red Wings.
* Nashville, currently, has the longest winning streak in the Western Conference.
MY THREE STARS (as voted with 6:25 left in regulation):
1) Sergei Kostitsyn (NSH)
2) Anders Lindback (NSH)
3) Patric Hornqvist (NSH)
THREE STARS OF THE GAME:
1) Anders Lindback (NSH)
2) Patric Hornqvist (NSH)
3) Sergei Kostitsyn (NSH)
—
PHOTO CREDIT: Paul Nicholson