LIVE FROM LAS VEGAS: David Poile sits down with 303…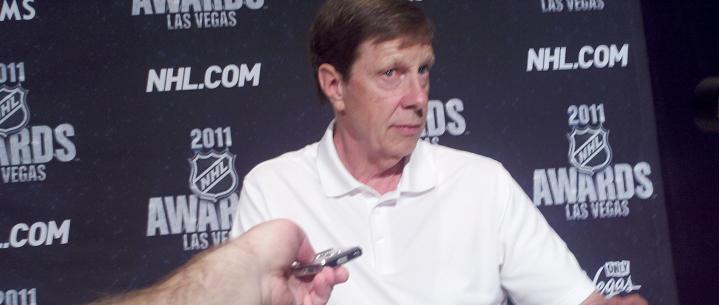 During the Media Availability portion of the 2011 NHL Awards in Las Vegas on Tuesday, Nashville Predators General Manager David Poile spoke to section303.com about what it means to be nominated for the GM of the Year, the upcoming NHL Draft this weekend and the success of the 2010-11 season. He may have even slipped up and "announced" that the Preds have re-signed Cal O'Reilly. Hmmmm……
section303.com: This is your second year in a row being nominated — and only the second year of the award — so talk a little bit about what this nomination means to you.
David Poile: Well, what it means to me, is the special part of this is that this is the one award that the General Managers get to vote on so this is a recognition by your peers. Regardless of what business you're in, whenever you have some sort of positive comments or recognition by the people you work with, that's very good. It's a feel good situation for me to be nominated. But that's for me. For our franchise, it clearly represents the fact that we have four people here and that we're making progress and we're certainly heading in the right direction. That's reflected by making the playoffs six of the past seven years and, this year, winning our first playoff round. Nashville, Tennessee is a young franchise that hasn't gotten a lot of recognition. The fact that we have these two players and have Barry (Trotz) and myself here today is really a big stepping stone in the right direction for us believing, our fans believing and maybe even the hockey world believing that the Nashville franchise is a good franchise.
303: Is that something that you pay attention to? How the Nashville Predators look to the hockey world?
DP: Oh of course. We're an international sport and you have to grow the game in all sorts of different ways so, as a member of the league, we have to do everything we can to make Nashville a stronger franchise. A team not too dissimilar to us is the Atlanta Thrashers. And they're now in Winnipeg. We've had our share of ups and downs in our franchise. Everything from the ownership change to the rumors or possibilities that we're moving to now where we are today. That's part of what of our job is. You've got to play well on the ice and you've got to make things happen off the ice to have a franchise be successful. A couple years ago there was a lot of questions to the viability of the Nashville Predators. Today, we're talking in a positive vein. We're doing really well on the ice, we had more sell outs than we've ever had I think — we went from four to something like 16 sellouts this year — our renewals have been very strong to this point, so a lot of things are starting to track really well for the Predators and just being here is reflective of that.
303: Please squash the rumor that, if you re-sign him, Marcel Goc is the so-called "replacement" for Matthew Lombardi.
DP: We've talked to Goc about a contract and we just re-signed Cal O'Reilly. I mean I think, in my own mind, if Lombardi came back, I could certainly see him more easily playing the wing than at center. I think this falls under "let's get some quality over the quantity" and then we'll figure it out. We're short a top six forward so if we get Lombardi back maybe he starts on the fourth line and works his way up.
303: Loyalty isn't something you hear everyday in pro sports anymore. Is that something you hope Shea (Weber) sees in Nashville? A family atmosphere that he wants to be loyal to?
DP: Well loyalty is a big word. We shouldn't throw it around lightly because loyalty is always a two way street. And again, this is a business. And a business means it's about money. You just have to do your best to work that balance. But you clearly know — and the fans know and the hockey world knows — that we like to promote from within. We are proud of the fact that our entry level guys make up the majority of our team. And, if possible, we want to keep the guys that we have. That's the "Predator way."
303: Is this a fun event for you considering the draft is a mere three days away?
DP: I think you just said it right. It's a fun event. I mean, it's an honor to be here but I must admit, my mind is going onto what's going on in (St. Paul) on Friday and Saturday. That's actually partly why I'm sitting here is how well we've done *laughs* at the draft. Whether it's drafting players or making trades or what have you. Again, all 30 teams are represented, all the managers are there, players get signed, players get traded, draft choices get flipped around… I'm anxious to get there.
303: Finally, the draft is in a couple days. You don't have a first round pick.
DP: I've already been approached by a couple of clubs asking about a couple of our younger players for a first round pick. Having said that, I wouldn't really anticipate it but you never know when you go to the draft. There's so many things that get thrown your way. I'm comfortable at this point in time with the depth that we have. I would love to have a first round pick but, having said that, we still have pretty good depth. There's a time and place to pay off your debts and this might be one of them.
303: Thank you and congratulations again.
DP: Thank you.
—
PHOTO CREDIT: Jeremy K. Gover // section303.com