LIVE FROM PHILADELPHIA: Pre-draft chat with David Poile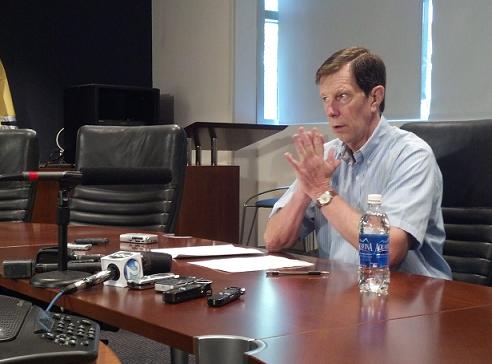 All of our draft day coverage is presented by Copeland Wealth Management. They help build and maintain wealth through a combination of customized direct investment strategies, trusted relationships and comprehensive financial planning. By helping you reach your financial goals, they reach their most important goal: becoming your trusted advisor.
***
Moments before the 2014 NHL Draft in Philadelphia, PA, we caught up with Nashville Predators General Manager David Poile in order to get his take, strategy and philosophy on tonight's event. Among other things, Poile reiterated that the focus is on drafting a forward.
Nashville, currently, sits with the 11th pick.
section303.com: There seems to be a set of impact players up top and then a second tier. That's nothing unusual except that, this year, that second tier seems to be plentiful.
David Poile: It really does. That's why I'm hoping that we're going to get the player we want to draft the most. We're favoring forwards. We're favoring more of the offensive upside guys and there's a lot of those guys in that area between six and 15. We'd like to get one of them.
303: At what point tonight will you know that you'd be in a good position to trade down and still get the guy (or one of them) that you want?
DP: It's hard to say. I'm pretty confident I can name the top five right now. I could be wrong but I'm pretty confident of how it's going to go. That said, I'm not going to know anything until after the top five. So, figure it out. That leaves six, seven, eight, nine and 10. And we're probably not going to trade with 10 so six, seven, eight or nine. There's not that big of a margin either me doing something or them wanted to do something.
303: You're no stranger to waiting this long in the draft. How agonizing is it to sit there and watch the guy you want — and think you can realistically get — come off the board before you?
DP: That's agonizing. There have been drafts where we know who we'd like to take in the round approximately. Some years it works out really well like that and some years it seems like the guy before you just takes your player. It's unreal. You just get everything in the right position and hope everything plays out correctly. Obviously we're hoping that this is a year that it comes out correctly.
303: Finally, your scouts overseas have done a great job, in the late rounds especially. With that comes a reputation for that group of guys. Absolutely nothing against your North American scouts but talk a little bit about the chess match in the war room when you're on the clock and debating on this guy or that guy.
DP: With today's scouting, we do stuff regionally but then we have guys that go to all the tournaments and then we have a lot of video so everyone gets to have their input. I mean, this starts at training camp through end of year meetings so we've been building consensus on who we like and who we don't like so, when we get to a place like this, it's virtually done. We're drafting players that we really want. That's really what it's all about. We don't try to get specific — or prejudice — in a certain area [of the world].
303: Thank you. Good luck today.
DP: Okay.