LIVE FROM PHILADELPHIA: Preds select Kevin Fiala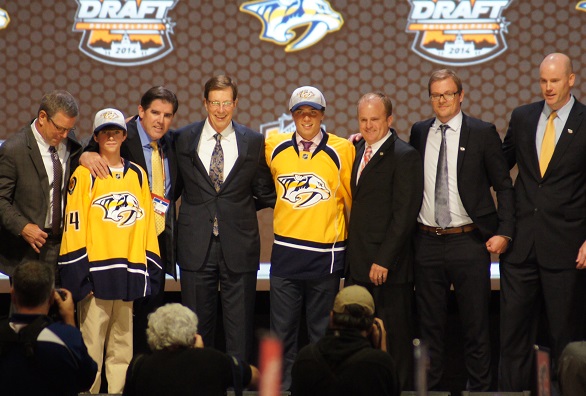 All of our draft day coverage is presented by Copeland Wealth Management. They help build and maintain wealth through a combination of customized direct investment strategies, trusted relationships and comprehensive financial planning. By helping you reach your financial goals, they reach their most important goal: becoming your trusted advisor.
Please support those who support us.
***
Moments after swinging a trade with the Pittsburgh Penguins for 26-year old goal scorer James Neal, the Nashville Predators took the stage and drafted Swiss forward Kevin Fiala with the 11th overall pick in the 2014 NHL Draft.
He confirmed he will attend development camp in about a week and a half.
The Uzwil, Switzerland native is going to an organization that is very familiar with Swiss players. Roman Josi and Simon Moser have both their NHL dreams come true wearing gold. Josi, in particular, is one of the best up-and-coming defensemen in the National Hockey League.
"I like him, I love him, he's a good player," Fiala said about his countryman. "He helped me a lot in the Worlds and he's a good person. On the ice, he's very good. Off the ice, he's very good. I think I can learn [a lot] from him."
Josi led the Swiss in scoring at the 2014 World Championships in Belarus but the 17-year old Fiala was no push over. He collected two points (both assists) playing against mostly NHL-caliber talent.
The experts weighed in on the newest Predator slighting his size. He had an answer for that.
"I'm the same size as Sidney Crosby and I don't care what other say," he said with conviction.
For those who haven't seen him play, Fiala described his own style of play.
"I'm an offensive player," he said. "I have good hands, I'm a good skater and I have a good shot. I play make and I can score some goals."
Sounds just like what Nashville needs.
UPDATE (10:44pm Central): The official press release is below.
***
PHILADELPHIA (June 27, 2014) – With the 11th selection in the 2014 NHL Entry Draft, the Nashville Predators selected forward Kevin Fiala on Friday night at the Wells Fargo Center in Philadelphia. A Switzerland native who split the 2013-14 between HV71's junior and Swedish Hockey League teams, Fiala is known as a dynamic offensive forward with game-breaking potential.
A respectable and shifty skater with quick legs and explosive acceleration, Fiala owns a slick skill-set with soft hands, good stick handling and brilliant puck-control. In addition to his wealthy arsenal of shooting tools which, combined with his creativity and finishing abilities, makes him the player you turn to if you need a goal, he has a quickness and agility that lets him avoid getting hit or held back along the boards.
Fiala, (7/22/96), was a finalist for the 2014 SHL Rookie of the Year Award after tying for the lead in points among all under-18 players in Sweden's highest league with 11 (3g-8a) in 17 games for HV71. The 5-10, 180-pound winger started the 2013-14 season with the HV71 junior squad, ranking among the league leaders in goals (10), assists (15) and points (25) in 27 games before his January promotion. Fiala spent his first season in Sweden in 2012-13 with the Malmo organization, posting 10 points (6g-4a) in nine games at the under-18 level and 28 points (9g-19a) in 33 games at the junior level.
"It was an easy decision to move to Sweden and play there," Fiala said. "I thought I could improve my game and I have improved there in my two years. Everyone believed in me and I played on the A-team [HV71] right after the Under-20 World Championship."
Internationally, the St. Gallen, Switzerland native represented his homeland at the World Junior Championship in Sweden, the Under-18 World Championship in Finland and the World Championship in Belarus in 2014, becoming just the third player ever to participate in all three tournaments in the same year (Andrei Kostitsyn and Vadim Karagan, Belarus in 2003). Fiala led the Swiss in points at both the under-18 tournament (4g-5a-9pts, 5gp), being named was named one of the nation's three best players in the process, and World Juniors (1g-4a-5pts, 5gp) as the team's youngest member. At 17, he was the youngest member of Switzerland's entry at the World Championship by three years, posting three assists and a team-best +3 rating playing alongside Predators defenseman Roman Josi and forward Simon Moser.
Rounds 2-7 of the Entry Draft continue Sunday morning at 9 a.m. CT with the Predators holding seven more selections: Nos. 42 and 46 (second round), No. 72 (third round), Nos. 102 and 112 (fourth round), No. 132 (fifth round) and No. 162 (sixth round).
—
PHOTO CREDIT: Sarah Fuqua (used with permission)