What the Experts Say: Kevin Fiala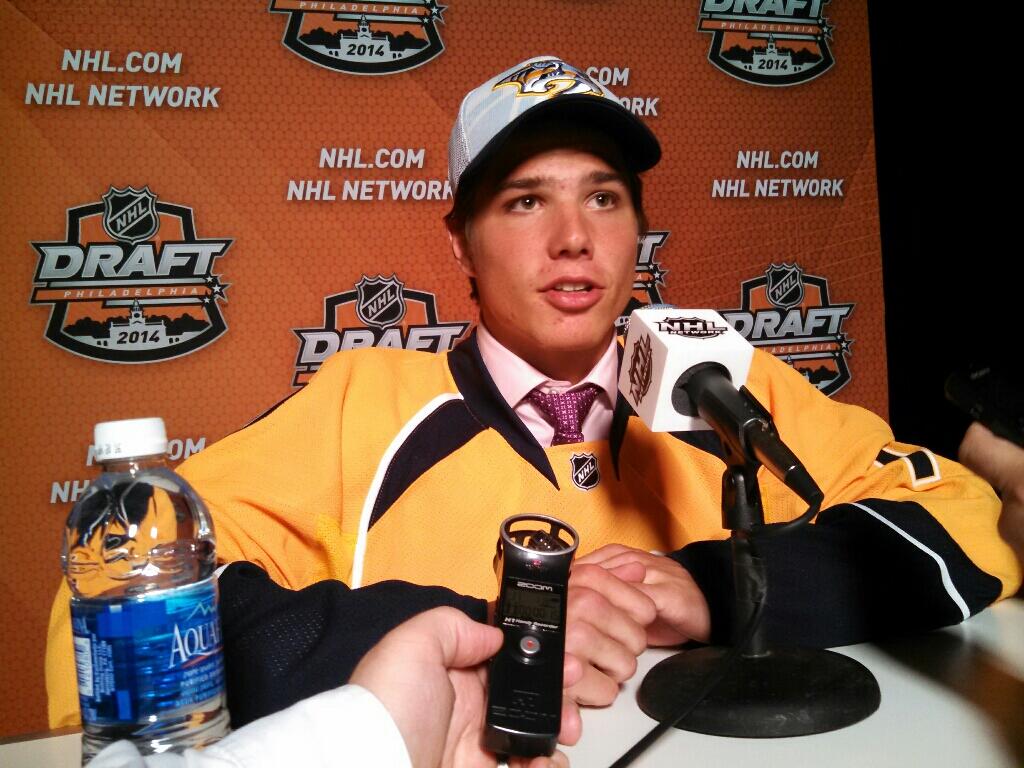 All of our draft day coverage is presented by Copeland Wealth Management. They help build and maintain wealth through a combination of customized direct investment strategies, trusted relationships and comprehensive financial planning. By helping you reach your financial goals, they reach their most important goal: becoming your trusted advisor.
Please support those who support us.
***
The Nashville Predators used their first choice in the 2014 NHL Draft (11th overall) on Swiss forward Kevin Fiala. We've compiled some of the experts' scouting reports on Fiala so they're all in one place.
THE BASICS
Team: HV71 (Swedish Hockey League)
Position: wing
Age: 17
Height: 5'10"
Weight: 181 lbs.
RANKINGS
THN: 13
McKeen's: 11
Hockey Prospect: 15
ISS: 20
International Scouting Services: 28
Hockey Prospectus: 18
WHAT THE EXPERTS SAY
The Hockey News: "The top threat for Switzerland at the under-18's, Fiala led the team with nine points in five games, followed that up on an excellent showing at the World Junior Championships where he also led his team in scoring. 'He's an artist,' said one scout. 'High-end skill, top-end creativity and anticipation. Small size is the only downside.'"
S. Cocker (ISS): "Elite hockey IQ on and off the puck. Anticipation and dynamic creativity on the puck make him dangerous."
HockeyProspect.com: "Kevin is a competitive player who doesn't back down from battling for pucks. He can be relentless in his puck pursuit at times. He brings that compete level along with a high hockey IQ to the offensive zone where he really shines… His hands are soft; high-end."
Mark Edwards (HockeyProspect.com): "I loved his blend of speed and skill combined with smarts and the ability to beat players off the rush. To draft smaller players in the first round, I like them to have the ability to make plays at high speed. Fiala showed me that ability."
McKeen's: "Extremely athletic and skilled and is adept at pivoting in motion while making a play… arguably the best player for the Swiss at the WJC as a go-to guy despite being the youngest player on the team."
ISS: "Fiala has shown a knack for creating off the rush through his combination of elusive speed, strength on his feet and puck creativity that turned heads this season. When at his best he shows a knack of finding open ice off the puck and getting himself in scoring areas, pucks finding himin the offensive zone."
Rafik Soliman (Elite Prospects): Kevin Fiala is an offensive forward with game-breaking potential. He is a respectable and shifty skater with quick legs and explosive acceleration. Fiala owns a slick skill-set with soft hands, good stickhandling and brilliant puck-control. Not known for his defensive play, as he still needs to learn what it means to stick to a game-plan or doing exactly what the coach has told him