LIVE FROM RALEIGH: 3 minutes with Shea Weber…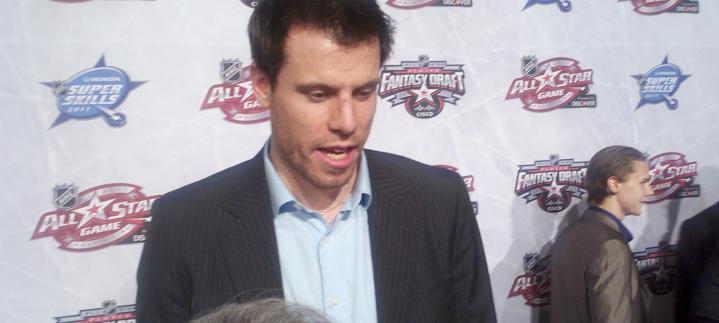 Just before the 2011 NHL All-Star Game Fantasy Draft, Nashville Predators captain Shea Weber spent three minutes with section303.com to talk about everything from his second All-Star appearance to his two most deserved teammates missing from the festivities to the city of Nashville.
section303.com: "This is obviously your second time as an All-Star. Can you talk a little bit about what you're expecting this time around as opposed to what you were expecting last time around?"
Shea Weber: "Yeah, obviously it's not as new to me. It's still new and different venue but I always expect to have a good time. I mean the guys here are great and it's a lot different getting to talk to some of the guys you're out there playing against."
303: "You said a while back that you felt both Ryan Suter and Pekka Rinne should be here with you. What is it like to walk in here without them?"
SW: "We'll find out in couple days on the ice." *laughs* "Yeah, obviously, everyone's going to be biased towards their teammates but I really think they's been exceptional for us this year. It's tough not to see them here but they're going to be able to go to a lot of All-Star Games over the next few years."
303: "Do you and Zdeno Chara have a friendly bet as far as who can put a puck through the net?"
SW: *laughs* "Nope. Nothing yet but we'll see if anything comes up."
303: "What are your emotions to represent the city you play for and your hockey club here at the All-Star Game?"
SW: "It's special. Like I said before, I thought there could be a couple other guys here (from Nashville) but, to be the one guy representing them, obviously I want to do the best that I can and have fun while I'm here."
303: "Talk a little but about Nashville as a market."
SW: "Our fans in Nashville are great. I love it there and it's a great place to play. Obviously the NHL has had to do a lot of work since the lockout and I think it's just starting to rebuild the game in the U.S."
303: "Do you think you have a little more appreciation for the experience as opposed to the guys who are here year-in and year-out? In other words, do you get a little something more out of it than they do because they're here every year?"
SW: "Oh yeah I think it's fun. You know, it's only my second time but I think it'll be fun no matter what. It's a show for the fans and, obviously, it's an exciting time."
303: "And what are you thoughts on the Fantasy Draft format here?"
SW: "It'll be interesting. Hey… at least we know a defenseman can't go last." *laughs*
303: "Thanks, Shea."
SW: "You're welcome."
—
SPECIAL THANKS to the section303.com Road to Raleigh sponsor Communication Elements. If you're a small business in need of marketing or public relations, check them out.
—
PHOTO CREDIT: Jeremy K. Gover // section303.com