LIVE FROM THE NHL DRAFT: Preds 1st pick Magnus Hellberg speaks…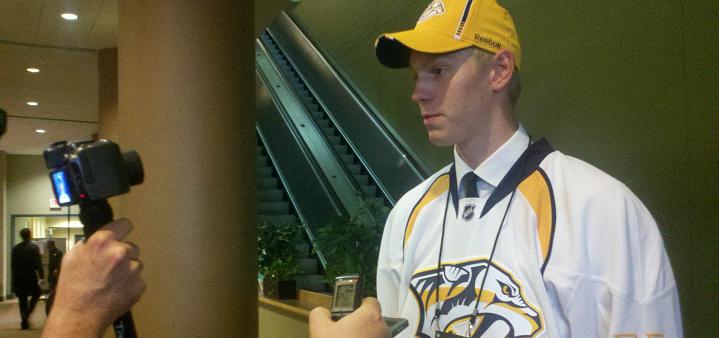 When the Nashville Predators took to their microphone with the 38th pick in the 2011 NHL Entry Draft this morning, they selected the first goaltender taken in this draft. But it wasn't top ranked North American John Gibson. And it wasn't second ranked North American Christopher Gibson. Heck, it wasn't even top ranked European Samu Perhonen. Nope. The first goaltender chosen in 2011 was Magnus Hellberg.
Hellberg caught up with the Preds media contingency of PredsOnTheGlass.com, section303.com and PuckScene.com after the draft and had this to say:
303: What does it feel like to be here and be a part of this?
Hellberg: It's a dream come true, you know. I didn't come here with that expectation at all and when they said my name in the second round, like the first goalie in the draft, it was… overwhelming. It was so great. Now they want me to (come) to camp and it'll be great to see the facility and meet the organization and meet the other guys who've been drafted. It's just fun.
303: Do you look up to both Anders Lindback and Pekka Rinne because they're Scandinavian or is there someone else you admire and watch?
MH: No, not because they are… Of course I know about a lot of Swedish goalies over here but I met Lindback last season when we were on the ice together. He's a really nice and funny guy and….
303: *laughs*
Hellberg: *laughs* You know what I'm talking about.
303: *laughs* Yeah yeah.
MH: Ah…. and we had the same goalie trainer before and he kinda plays the same style. So, anyway, I like to watch goalies who play my style and see if I can take something from them and learn. But I also like to watch Tim Thomas play. Maybe it isn't my style but he's entertaining and fun to watch.
303: Who did you bring with you to your big day here?
MH: My agent. It was 50-50 if I was going to (be chosen) or not so I didn't want to bring my parents but it's a great experience just to be here and see the atmosphere and see how big it really is… It's awesome. I never regret going here. Everything around, everybody's so nice. It's just cool to be a part of it.
Also it should be noted that Preds On the Glass confirmed, in his portion of the interview, that Hellsberg will be attending Rookie Development Camp next week. So come out and welcome him to Music City. A city he said he doesn't know much about. Let's make him feel at home!
—
PHOTO CREDIT: Jeremy K. Gover // section303.com