Predators set to announce Kirk Muller as Admirals head coach…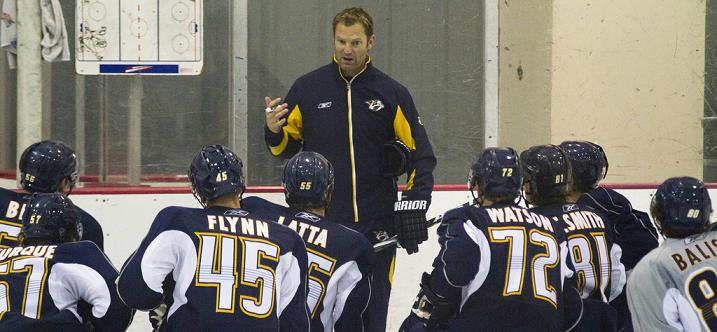 Pop quiz: who was Mario Lemieux's David Legwand in1984?
Answer: the Milwaukee Admirals' new head coach.
According to TSN, the Nashville Predators will introduce Kirk Muller as Lane Lambert's replacement in Milwaukee on Monday at noon Central. Muller was drafted second overall, just behind Lemieux, and went onto win a Stanley Cup with the Montreal Canadiens in 1993. Lambert was recently promoted to the big club when Associate Head Coach Brent Peterson retired from coaching due to his battle with Parkinson's Disease.
Muller comes with quite the pedigree. At least as a player. In 1,349 games, the Kingston, Ontario native racked up 959 points over 19 years. He donned New Jersey Devils, Montreal Canadiens, New York Islanders, Toronto Maple Leads, Florida Panthers and Dallas Stars jersey's in his career, positively contributing nearly everywhere he went. He was the second overall pick in the ultra-stacked 1984 NHL Draft that included such names as Lemieux, Ed Olczyk, Al Iafrate, Gary Roberts, Patrick Roy, Brett Hull, Luc Robitaille and Gary Suter. Additionally, he still holds Devils franchise records for points in a single game (6), assists in a single game (5) and points by a center in a season (94).
As far as his coaching resume goes, that's still in its infancy. He was the head bench boss for the Queen's University Golden Gaels of the Ontario University Athletics Conference in 2005-06. He led them to an underwhelming 8-13-1-2 record but that could mostly be attributed to the quality of players that suited up for the school and not to his coaching ability. Shortly after the season ended Muller moved onto the Montreal Canadiens, taking an assistant coaching position. He served in that capacity for the past five years and will now take his first head coaching gig in professional hockey with Milwaukee.
With loads and loads of experience, a Stanley Cup ring and just enough of a journeyman NHL career to have seen a vast array of coaching styles, Muller will be able to provide the aspiring NHLers of the Admirals with good advice, accurate insight and thoughtful suggestions in order to achieve their dream. And, since the Predators basically coach-by-committee all the way down the system, Muller will be able to learn, take direction and give direction while finding his own coaching style.
This is a win-win situation for all parties involved. Congratulations to the Nashville organization for pulling in such a great hire.
—
PHOTO CREDIT:  Rachel Addison // Rachel Addison Photography (used with permission)