Lombardi may play for Leafs but it was still the right move by Poile…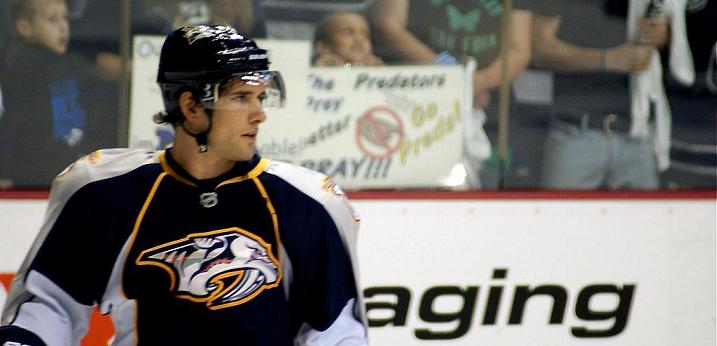 Globe and Mail reporter David Shoalts is reporting that Toronto Maple Leafs center Matthew Lombardi has been cleared for contact and "looks more and more like he'll be on the opening-night roster."
Oh really?
Lombardi was the first "big name" free agent signing for the Nashville Predators since Paul Kariya in 2005. Fans seemed to complain every summer about how General Manager David Poile would never go out and sign a marquee player when free agency opened on July 1 every year. Arm chair GM's in Middle Tennessee were looking right past the club's market size and their payroll limitations.
Then July 2, 2010 happened.
Was Lombardi a goal scorer? No. Was he an 80-point guy? No. But he was one of the most desired forwards available in the 2010 free agency class. And the Predators actually went out and got him. He would sign a three-year deal worth $3.5 million per year. Not a bad price for a guy who has the potential for 50 points a season and will help the transition game with his elite speed.
Unfortunately, that speed never got a chance to ignite. Lombardi suffered a concussion in the second game of the year and played all of four periods in a Preds sweater. After missing the rest of the season and the playoffs, the 29-year old pivot was unloaded to the Maple Leafs along with defenseman Cody Franson in exchange for Brett Lebda and young forward prospect Robert Slaney.
Lebda has since been bought out and Slaney will start the 2011-12 campaign with the AHL affiliate Milwaukee Admirals.
Franson, 24, will be a 40-point blueliner in this league and should be a power play quarterback for the Leafs' second unit. Letting him go was tough for the Predators but it was a necessary evil. After all, he was expendable due to the talent in the system. Ryan Ellis, Mattias Ekholm and Roman Josi are all dynamic offensive-minded defensemen who, in time, could step up and take Franson's spot.
If Lombardi remained with Nashville, and was never able to recover, the Preds would have been on the hook for every dime of his $10.5 million contact as he had suffered a concussion before, thereby negating any possibility of having his salary paid by insurance. The budget-conscious Predators would never have had the financial flexibility to improve the roster with that kind of commitment sitting on the books without a return on the ice.
Some will say "All that's fine. But now he's recovering and would be playing here in Nashville." Okay. But I would remind you that he's a single hit away from probably the end of his career. Let's face it, if Lombardi came back and suffered yet another concussion, Poile and company would be in the exact same boat laid out above. And nobody — not even Brian Burke — would touch him then.
While the Preds still would have traded for Mike Fisher (because they did with Lombardi still on the roster), and while you would hope to see the depth chart at center read Lombardi, Fisher, David Legwand, etc., the bottom line is you can't operate a sports team on hope. You have to operate on what the facts are. And, in this case, the facts were these: a player is on our roster that's taking up a lot of salary, that player is injured and that player now has a history of concussions.
Trading Franson for a minor leaguer in order to unload Lombardi's contract (and risk) was not only necessary, it was a miracle. The fact that Poile actually found a team to do it should put him right back in the GM of the Year race. Even if Lombardi plays all season.
And, hopefully for him, he does.
—
PHOTO CREDIT: Sarah Fuqua // special to section303.com (used with permission)