Three Minutes With: Preds defenseman Teemu Laakso…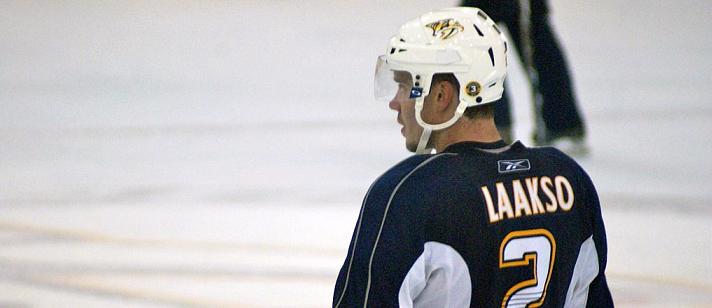 In this edition of Three Minutes With, section303.com spends some time with veteran Milwaukee Admirals defenseman Teemu Laakso.
"Laks" has always been a solid blueliner. Nothing flashy. Just solid play in his own end. Then last year happened. Not only did he play well on his side of the ice but he posted an incredible 30 points, nearly triple his career high of 13. Along with young prospects Ryan Ellis, Mattias Ekholm and Roman Josi and veterans Jack Hillen and Tyler Sloan, Laakso is in a heated battle for one of the bottom three defensive roster spots. Consensus says that Laakso will have a full-time NHL job this season after paying his dues on the AHL level for the past three seasons. Also, unlike the other rookie blueliners, Laakso has actually suited up for the Predators before. Despite being used sparingly, his eight games of NHL experience is eight games more than Ellis, Ekholm and Josi combined.
The 24-year old Tuusula, Finland native sat down with section303.com and discussed his excitement for the season, being yo-yo'd back-and-fourth from Milwaukee to Nashville, and his three different jersey numbers.
—
303: This is the third different number you've worn in as many years here in Preds camp. Is there a reason for all the changes?
Teemu Laakso: Actually, I'd had #2 quite a while already. By the time I got here (to Nashville), there was a guy (Dan Hamhuis) who was using #2, so they just gave me something else and I didn't complain. So I think my next year, all of a sudden, they gave me #4. I didn't ask about it, they just switched my number again.
303: Because Cody Franson took the #32 they'd given you, right?
TL: Yeah. And this year was actually the first time that #2 was available so I finally got it.
303: Did you do anything different over the summer to prepare for this upcoming season or was it pretty much status-quo for you?
TL: Um, yeah, it was pretty much my normal workouts. I didn't change a lot. Maybe a little bit. I felt like I wasn't as tired when I got to camp so that was good.
303: What does it feel like to finally have a legitimate shot at cracking the opening night roster. Obviously you've had a chance before but, this year, you're basically penciled in as one of the defensemen on the bottom pairing. How does that feel?
TL: Oh, obviously it's a great feeling. It's probably the first time (since I've been in the organization) that you actually know there's a couple spots open. You just gotta go fight for it. Yeah, I'm really excited about it!
303: You've spent time here before, but always spot duty. Called up, sent back. Called up, sent back. What's the difference between those experiences and now when you may start with a full-time spot?
TL: Well I don't know if there's a big difference between them. I mean, now, when you start the season up here, I would say it's a little bit easier. You get to know all the guys a little earlier and you play with the same guys. So this year might be a little different that way but I don't think there's a big difference between them.
303: And finally, you exploded offensively last year. If you look at your stats in your career, even in Finland, you've never been known as an offensive threat. But, all of sudden, you posted 30 points. What was the secret? What changed?
TL: *laughs* "I really don't know what the secret was. I think one of the biggest reasons was Jon Blum got called up from Milwaukee so I got to play a lot more power play. I got a lot of points on the power play. I don't know. I just felt more confident because I knew the coaches. I knew my teammates. I just felt a lot more confident and I was trying to play some offense as well.
303: Thanks and we'll see you soon.
TL: Thank you.
—
PHOTO CREDIT: Sarah Fuqua // special to section303.com (used with permission)