Marcel Goc: a section303.com exit interview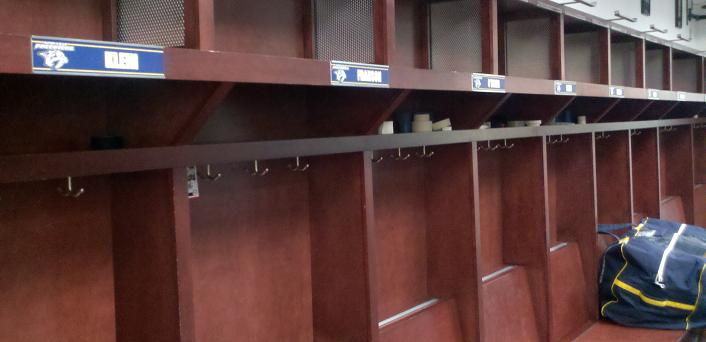 This is the first of a multi-part series of exclusive interviews conducted by section303.com during the final media availability session for the 2010-11 Nashville Predators.
—
In this installment, we spoke with Preds forward Marcel Goc. The Calw, Germany native suffered two injuries during the year. One in October at the hands of Washington Capitals forward Nicklas Backstrom who boarded him dangerously from behind (no penalty — or suspension — was given) and then again in February after getting thrust hard into the boards directly on his left shoulder. The latter caused him to miss the rest of the year. The 27-year old winger spoke with us about the frustrations of the latest injury, the two hockey organizations he knows best and how he tried to help his team in the post season.
—
section303.com: Can you kind of contrast both the Nashville organization and the San Jose organization now that you've spent considerable time with both?
Marcel Goc: Yeah, I think both are great organizations. Up until now, Nashville was maybe not always on everybody's radar but last year with the series against Chicago and this year being in the second round. So I think now more people probably look more to Nashville. I think the city has done good with hockey and we've got more fans coming to the games so I think Nashville is on a great way up. So, if we continue to raise our level as athletes then we'll get better as a team then we'll go further and further.
303: In Head Coach Barry Trotz and General Manager David Poile's press conference, they said that you're one of the impending free agents that are "pieces to our puzzle." How does that make you feel and would you want to come back?
MG: Yeah, I haven't actually heard that press conference so it's always good when you hear something like that from coaches and management. I definetly like it here. I enjoy living here and playing here. I've had nothing but a good experience here in Nashville and I think I did well here too. Of course, I got a better opportunity here than in San Jose and I think I took advantage of it. So yeah… I have nothing against Nashville. *laughs* Yeah, I guess we're going to find out here in the next few weeks or months.
303: How frustrating is it for you personally when you're on the sidelines and your team is battling through two tough playoff rounds?
MG: Yeah, it's never fun when you're out. Especially in the playoffs. You want to be a part of it. You want to be on the ice helping guys out, just doing something to help the team win. I couldn't do much so I tried to grow my playoff beard *laughs* so I have a few facial hairs there but I think it looked more funny than good. But yeah, I was doing my rehab and trying to get better as quickly as possible and support the guys when I could. You know, you don't want to bother them too much because they gotta be focused. So, yeah, I was there with the other injured guys and we were up in the press box and it's almost tougher. It's hard to watch. You sit there and you try to help push the puck over the line *laughs* and stuff like that. But you definetly want to be a part of that, especially playoffs because that's what you play for in the regular season and then you want to go for the Cup.
303: You expect to be fully healthy by training camp, correct?
MG: Yeah yeah. It just takes time. It wasn't a complicated surgery for those guys who do it everyday.
303: Thank you so much.
MG: No problem.