Francis Bouillon: a section303.com exit interview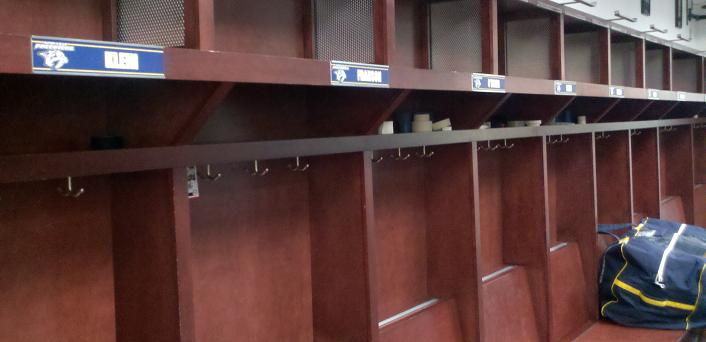 This is the second of a multi-part series of exclusive interviews conducted by section303.com during the final media availability session for the 2010-11 Nashville Predators.
—
In this installment, we spoke with Preds defenseman Francis Bouillon. The stay-at-home blueliner was on his way to a career year offensively when he suffered a concussion on January 16 in Chicago. "Cube" never recovered and was forced to sit out the remainder of the season and the entire playoffs. Here he discusses his frustration with missing the second half of the year, how it took a toll on his family and what he thinks his team learned in April and May.
—
section303.com: Talk a little bit about your experience being on the shelf through these games. What is it like to be sitting in the press box during the roller coaster ride of these playoffs and not being able to help your team?
Francis Bouillon: This year was really tough, personally. It was a tough one. Actually, when that hit happened, right afterward the doctor in the room told me I was going to miss the game, that I can't finish the game, and I was kind of disappointed but (I said) "Okay, I'm gonna be back next game." but it's been like four months. I never came back so I was really disappointed because every time I'd try to come back and get back on the bike or make a push on the ice my symptoms were always coming back. So it was pretty tough on me but it was nice to enjoy the team playing this year in the playoffs. it was real exciting but you always want to be there and, obviously, I wasn't there and it hurt.
303: Marcel Goc told me that he didn't want to be in the locker room too much because he knows the players who are playing need to be focused. But, at the same time, he finds himself getting really anxious while watching the game like will-powering the puck onside and things like that. What do you go through when you have to watch your teammates play?
FB: It's always tougher when you're not in there. Like, you're not participating. You're more nervous when you're watching the game on TV then when you're on the bench and you can change some things. It was hard but there were a few guys together like Marcel and (Matthew) Lombardi and we were all cheering for the team. Even when the team was on the road we were all trying to go watch the game somewhere. But I'm a professional and I'm proud of what I've accomplished in my professional career and that's the best time of the year, the playoffs. And I know that's my type of game too, you know? I like to play intense and to hit and I had a great feeling last year when we made the playoffs here and this year, obviously, it was really hard (not to play).
303: What is it like as a professional athlete to deal with a concussion where you feel great one day and then you wake up the next and feel terrible? And what's it like at home because it can't just be frustrating at the rink?
FB: Oh it's unreal. When you're at home, you're just so pissed and you turn that against your family and somebody does something wrong and you're so frustrated and you get even more pissed. Yeah, it was tough on myself and for my family, for my wife and kids. But they understand that when you get a sprained ankle, or another injury, there's always progress day by day but with this kind of thing it's always up and down. You can have three or four days that are really good and you think you're back but then, after that, it's going back down so it's the worse injury I've had in my career.
303: They always say "you need to learn how to win before you can win championships." Do you think you guys did that this year?
FB: That's for sure. You get a little character (doing that). I knew it from day one when I showed up last year I was really impressed from that group. Even from the coaching staff. To be honest with you, when I got in this room last year in training camp, I was like "Okay, I don't know half of the names of the players here" so I was like "Where are we gonna go?" but it was kind of a family thing. We all worked the same way when we were together and I was not surprised to see the guys respond the way they did this year."
303: Thank you very much. Hope to see you next year.
FB: Thanks.
—
HEADLINE PHOTO CREDIT: Jeremy K. Gover // section303.com
INSET PHOTO CREDIT: Amanda DiPaolo // predlines.com (special to section303.com)