Martin Erat will not travel to California, out for Game 5…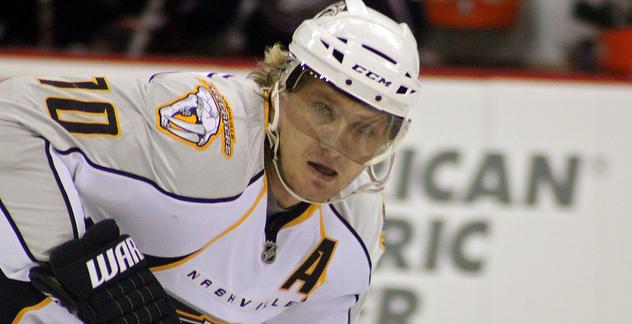 According to the Tennessean's Bryan Mullen, Nashville Predators forward Martin Erat will not make the trip to Southern California after the brutal hit by Jarkko Ruutu in last night's game.
You can read Head Coach Barry Trotz's comments to Mullen by reading both tweets here. (TWEET 1, TWEET 2, TWEET 3)
If you haven't read Chris Burton's post on the incident yet, you need to do that. It's well written and takes several different aspects into account regarding motive, intent and execution.
Erat tied for the team lead in scoring with 50 points during the regular season and had three points in four games during the playoffs. Coming into last night's game, Erat was tied for second on the team in postseason scoring.
So, if Ruutu and the Ducks were, in fact, targeting one of Nashville's best players, they got their money's worth.
Anaheim was without one of it's best players in Games 3 and 4 and now the Preds will be without one of theirs in Game 5.
UPDATE: Not that it's going to effect their production (or even their lineup) but Ruutu's hearing with the league is set for 4:00pm Central today.
—
PHOTO CREDIT: Dylan Moody // special to section303.com (used with permission)