Nashville's Pekka Rinne nominated for Vezina…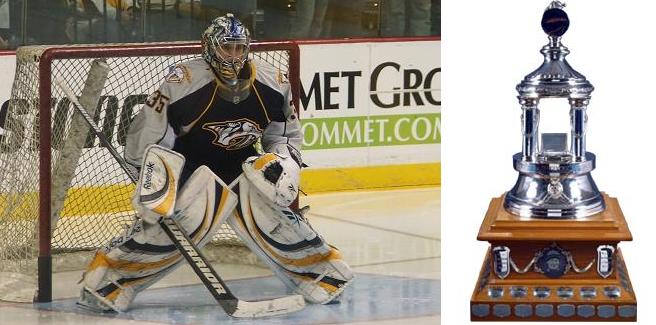 On the morning of a critical Game 5, Nashville Predators goaltender Pekka Rinne started his day off right. He was officially nominated for the Vezina Trophy, awarded annually to the NHL's best goaltender.
While the front runner is Tim Thomas of the Boston Bruins, Rinne certainly has an argument for the trophy as he posted ridiculous numbers on an offensively challenged team. His .930 save percentage was second in the league, his 2.12 goals-against average was third and his 33 wins was only five short of league leaders Roberto Luongo (the other Vezina nominee) and Carey Price. If he had consistent goal support in front of him, he easily could've led the league in that last category.
The 2004 8th round pick of the Predators has improved every season he's played in the NHL. His rookie season, he won 29 games, last season he posted 32 and this season he collected 33. His games played, games started, minutes played and total saves have gone up each year as well. And he missed a combined month of action with two seperate injuries this season. Think of his numbers if he's healthy all year. Yikes.
In all reality, Rinne probably finishes second in the Vezina race. Thomas put up incredible numbers from the start of the season until the end. Unlike most goaltenders who start off strong, he never faded, posting a God-like 2.00 GAA and .938 SV%, both tops in the league. But, unlike the 2009 Calder Trophy which many Predators fans still argue he should have won, at least he's nominated.
And, quite honestly, that's enough. He'll win plenty of hardware in the future. This nomination is just an appetizer.
—
PHOTO CREDIT: Jeremy K. Gover // section303.com