Nashville's Poile named GM of the Year finalist once again…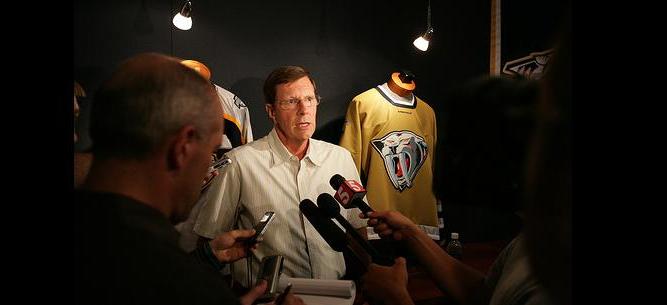 Around this time last year, Nashville Predators General Manager David Poile was named a finalist for the NHL's inaugural GM of the Year Award.
And here we are again this year.
Poile, the only General Manager this franchise has ever known, has been named a finalist in the 2011 version of the award along with Mike Gillis of the Vancouver Canucks and Steve Yzerman of the Tampa Bay Lightning. The Phoenix Coyotes' Don Maloney won the honor in 2010 and now Poile, the only back-to-back candidate, will try to win it in 2011.
And why shouldn't he?
All he did since losing out on the award last year was unload captain Jason Arnott's $4.5 million contract to the New Jersey Devils, ship out two guys he wasn't going to re-sign anyway in Dustin Boyd and Dan Ellis in exchange for troubled Montreal forward Sergei Kostitsyn, acquire Shane O'Brien to shore up the blueline and sign big name free agent Matthew Lombardi to help the club offensively.
While Lombardi got a concussion just four periods into his Preds career, Kostitsyn (who made less than tough guy Wade Belak, by the way) went on to tie Martin Erat for the team lead in scoring. That move alone, really, warrants Poile the GM of the Year crown. I mean, let's face it, he turned a depth-forward in Boyd and a back-up goaltender in Ellis into the team's leading goal scorer. All while making the most storied franchise in the National Hockey League, the Montreal Canadiens (who couldn't wait to get rid of him), look silly.
The Arnott deal, the O'Brien acquisition and the promise of a healthy Lombardi are all just gravy compared to that.
I would normally mention the rookies that have stepped up in near-desperate situations due to the absence of injured players but that's more Head Coach Barry Trotz's territory. So I'll leave that argument for when Trotz is nominated for the Jack Adams Award.
To read the NHL.com article on the GM of the Year finalists, CLICK HERE.
—
PHOTO CREDIT: The Tennessean (used with permission)