Preds capitalize on Ryan's suspension, take 2-1 series lead…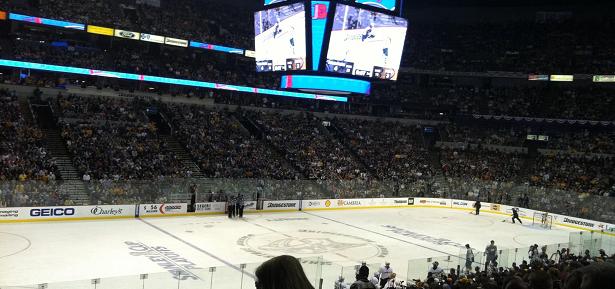 The Nashville Predators have been here before. The series tied coming home for Game 3. Then winning Game 3. Then taking a 2-1 series lead into Game 4, also at home. Last time, however, the Chicago Blackhawks won three straight to take the series and, eventually, the Stanley Cup.
Can the Preds prove they've learned from last year? Because it seems like they're re-living it.
The Preds held the Anaheim Ducks to just 16 shots on goal and took the series lead on a 4-3 win in front of 17,113 inside Bridgestone Arena. Nashville got goals from Martin Erat, Jordin Tootoo, David Legwand and Mike Fisher in the victory.
Late in the first period, the Predators not only struck first but they struck twice in 0:38.
After Ducks defenseman Luca Sbisa interfered unnecessarily on Matt Halischuk (who was heading to the bench for a change), Erat picked up his own rebound and roofed it over Anaheim netminder Ray Emery to make it 1-0.
Then, just seconds later, Ryan Getzlaf tried a backhand pass in front of his own net and Tootoo picked it off, hit the cross bar on the initial shot but then, while falling down, swept the rebound home to make it 2-0.
Late in the second, Teemu Selanne bagged two goals in 0:30 to tie the game.
"They got the late powerplay goal and then come back and scored," Head Coach Barry Trotz said. "When something like that happens, it can really test your mettle and your character. I thought we responded really well."
Early in the third period, Erat fed a gorgeous pass across to a waiting Legwand and, once again, the Preds are able to score when making Emery go post-to-post. The goal made it 3-2, Nashville.
But it wouldn't last as, just seconds later, Matt Beleskey tied the game for Anaheim once again, this time at 3-3.
But that wouldn't last either. Fisher scored his third goal of the series to give the Preds the 4-3 lead after a sweet cross-crease backhand pass by Sergei Kostitsyn. It would prove to be the game-winner.
The Preds and Ducks will now sit idle until Wednesday (thanks Lady Gaga!) when Game 4 will take place inside Bridgestone Arena. If you thought the building was loud and rockin' tonight, imagine Wednesday with the chance to go up 3-1 in the series.
*goosebumps*
Puck drops at 7:30pm and we'll see you then! And remember: hot tea and honey all day Wednesday. You're gonna need it.
LEFTOVER THOUGHTS:
* This was the first of the two games Ducks superstar Bobby Ryan is suspended for. He was second on Anaheim in shots during the regular season. The Ducks managed just 15 in this game. Put two and two together there. (props to David Boclair for that stat)
* The Game Ops department brought back the Run This Town intro video (updated) much to the delight of Preds fans everywhere.
* The Ducks didn't get their first shot on goal until 9:31 into the game.
* Preds defenseman Shane O'Brien had five hits in the first period alone. He finished the game with six.
* Erat was high-sticked again tonight. This time by Corey Perry. No penalty called. Again.
* Perry then one-handed cross-checked Kostitsyn's face after the whistle and, you guessed it, no call.
* Since losing his front grill in Game 2, Erat has a goal and two assists.
* While O'Brien has been sitting in the box, the Ducks have found the back of the Preds net three times in this series.
* Erat has six points in his last four playoff games.
THE THREE STARS OF THE GAME:
1) Mike Fisher (NSH)
2) Teemu Selanne (ANA)
3) Martin Erat (NSH)
—
PHOTO CREDIT: Jared Rankin // special to section303.com (used with permission)