Not trading David Legwand would be a huge mistake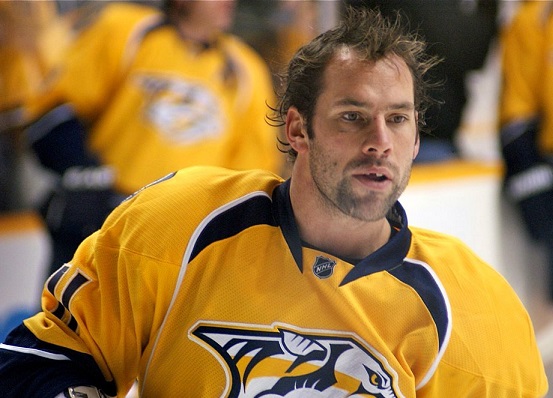 The NHL's trade deadline is less than 24 hours away and the Nashville Predators aren't expected to be major players. That said, there is one thing General Manager David Poile and company need to do.
They need to trade David Legwand.
Poile spoke with The Tennessean's John Glennon yesterday and stated that "Leggy" could very well finish out the season in gold.
"If we trade David for a draft pick or prospect that's not going to come in and play here (immediately), you could argue quite convincingly that that's not going to make us a better hockey club," Poile said. "So I am not aggressively pursuing it. I have touched base with all 30 clubs. They all know that David is unrestricted. They all know that under certain circumstances, he could be available. They all know he has a no-trade contract. … So there's a lot of factors that look to me like David is going to be here."
Legwand, 33, was the organization's first ever draft choice back in 1998. He's played at least one game in every season of the franchise's existence and sits atop nearly every major all-time club record list including goals (210), assists (356), points (566) and games played (955). Entering Tuesday night's game against the Pittsburgh Penguins, Legwand was tied with captain Shea Weber for the team lead in scoring this year as well with 40 points.
So, for a team who struggles to score, why move your all-time and current offensive leader?
The Detroit, Michigan native is coming to the end of his six-year, $25 million deal. He'll be an unrestricted free agent on July 1 and the Preds can't afford to lose him for nothing. Especially when there's a market for him.
In 2012, Nashville went through this with All-Star defenseman Ryan Suter. He was set to become an unrestricted free agent that summer and the Preds were hoping to re-sign him. The difference between Suter in 2012 and Legwand in 2014 is simple. Two years ago, Nashville was considered a Stanley Cup favorite or, at the very least, a favorite to come out of the West. If they had traded one of the best blueliners in the league, it would have certainly hurt their chances.
Fast forward two years. If the Preds move Legwand, they'll be hurting their chances this year, sure, but let's be honest, this team is not a Stanley Cup contender. Heck, they are one of five teams fighting it out for the eighth and final playoff spot in the West. The odds of getting in are not on their side, let alone making noise if they do. Moving Legwand to a contender such as Pittsburgh, the Boston Bruins or the Anaheim Ducks would allow for Nashville to acquire another asset for the future.
Additionally, in retrospect, Poile made a mistake not trading Suter's rights at the draft. Had he done that, he would have been able to have his cake and eat it too. He would've had Suter on his hockey club for the playoffs and still gotten something out of him. Okay, so it wouldn't have been the king's ransom they would have gotten at the deadline but it still would have been something.
Legwand's rights, conversely, won't net the Predators a single thing in the summer. Teams like Pittsburgh and Anaheim need help for their Cup runs now and the original Predator will hardly have teams clamoring just to talk to him before free agency opens like Suter did.
Who knows, with Pekka Rinne returning to the lineup, they may get in anyway. But to keep a tradeable asset like Legwand simply because it will keep a fringe-playoff team as a fringe-playoff team is unacceptable.
Poile and the Preds absolutely need to move Legwand before Wednesday's 2:00pm Central deadline. Strike while the iron's hot and, right now, the proverbial iron isn't the Stanley Cup hopes in Music City but rather the Stanley Cup hopes in another city.
Use that as leverage, ask him to waive his no-move clause and make it happen.
—
PHOTO CREDIT: Sarah Fuqua (used with permission)